LIVE: Ifakara scientists to share insights from African conversations on "Gene Drives for Malaria."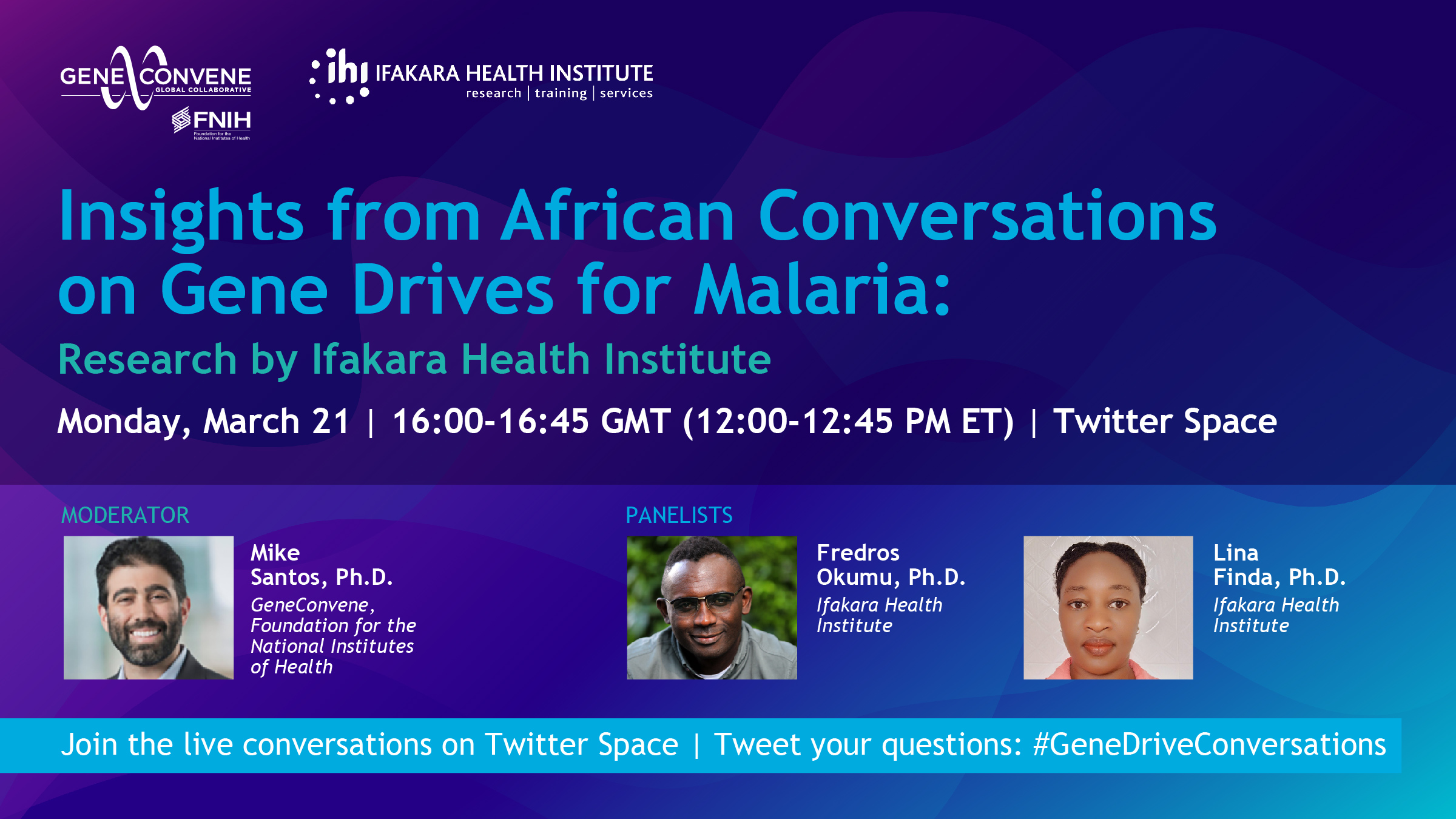 Ifakara Health Institute researchers, Drs. Lina Finda and Fredros Okumu, will go live on Twitter Spaces on Monday, March 21st 2022 from 12 PM (that's 16 GMT) to share their insights from the conversations they had in Africa on Gene Drives for Malaria.
GeneConvene is hosting this Twitter Spaces conversation to be moderated by Michael Santos from the GeneConvene global collaborative. This live conversation will preview results from a new study assessing awareness of and attitudes toward gene drive approaches for malaria control among scientists and malaria control professionals across 25 African countries.
Specifically, the conversation will address a number of questions including: what do African stakeholders know about gene drive approaches for malaria? what are their opinions, insights, and reactions to the technology? and how can these perspectives inform gene drive mosquito research?
Those interested to attend, are encouraged to mark their calendars now and join the conversation here: https://bit.ly/3I3gjFe You can tweet your questions to our speakers using the hashtag #GeneDriveConversations.
About GeneConvene
GeneConvene is a global collaborative advancing best practices and informed decision making for development of genetic biocontrol technologies to improve public health. The collaborative offers technical information, advice, training and coordination for research on gene drive and other genetic biocontrol technologies.
Learn more here.
About Twitter Spaces
Twitter Spaces is a new feature that enables live audio conversations online between users, similar to a live podcast. You can listen to GeneConvene & Ifakara Health Institute's conversation on the Twitter mobile app or your computer browser.
Learn more here.