#IWD2022: Ifakara ladies mark Women's Day with visits, donations to underprivileged groups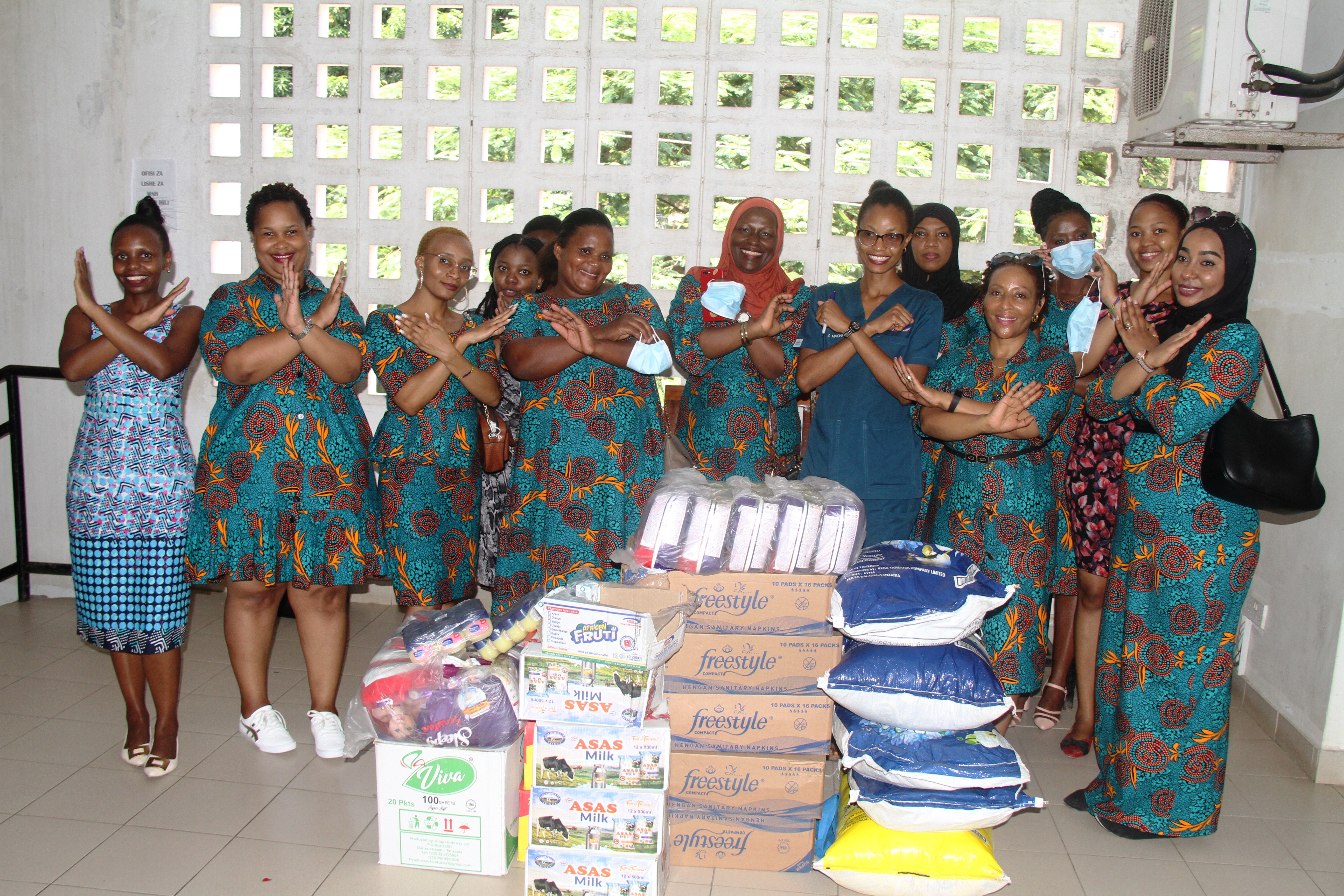 On international women's day today, women staff from all of our offices in Dar es Salaam, Ifakara and Bagamoyo marked the day with visits to hospitals and schools where they donated to underprivileged groups and schoolgirls.
In Dar es Salaam, the ladies came together to mark the day by visiting underprivileged children admitted to Muhimbili National Hospital (MNH), where they made a generous donation of a consignment of assorted items, which included pampers, sanitary pads, toothpastes and tooth brushes, bathing soaps, washing detergent, body oil, cooking oil, rice, sugar, beans, flour and honey.
The consignment also included thermometers, khanga, deras, gloves, socks, long-sleeved children's clothes and sunglasses. All these were bought by women employees of Ifakara Health Institute's Dar es Salaam office.
The targeted beneficiaries for the donated items were the children admitted to Muhimbili, including their caregivers (family members) who stay with the children at the hospital. Most children admitted to the Muhimbili National Hospital have chronic conditions.
Their hospitalization is usually lasting longer – up to several months - which can cause financial difficulties in some families, especially low-income ones. Both big and small donations to these hospitalized children can offer enormous relief to these families on the burden they face while at the hospital.
Special women's day cake
Ahead of the hospital visit, Ifakara women started the day off with a cake cutting gathering activity at the Ifakara headquarters offices. Invited guests for this gathering were all ifakara employees from all units and departments in Dar es Salaam. The activity was officially opened by Ifakara Chief Executive Director, Dr. Honorati Masanja.
In his brief remarks, Dr. Masanja highlighted the contribution of women in the Institute's work, saying that he wished his successor to the post of Chief Executive Director he was holding would be a lady. "It's my sincere wish that the next director after me is a woman," he said, amid applause.
Muhimbili visit
At MNH's pediatric building, ifakara women were received by the MNH management and the social welfare officers who received the donated items on behalf of the admitted children.
Head of Social Welfare Department at MNH, Mr. Emmanuel Mwasota, who hosted the Ifakara ladies said: "Most children admitted to the hospital have chronic conditions such as cancer, heart disease, diabetes, macrocephaly or "big head" and others with severe burns.Their hospitalization is usually longer, lasting several months which can cause financial difficulties in some families. We thank the Ifakara women for their donation which will aid the children and their families particularly low-income ones and those from outside Dar es Salaam."
Dr. Sally Mtenga – Head of the Health Systems, Impact Evaluation and Policy department at Ifakara, who spoke on behalf of the group, said, "On this women's day, we have joined together to support MNH mainly because as an institute our focus is improving health and social welfare through evidence-based research and this donation solidifies our intentions and mission to help tackle challenges faced by our communities especially groups with special needs."
This year's women's day theme is 'Gender Equality today for a Sustainable Tomorrow' and adding on this Dr. Sally remarked that as a society we cannot have gender parity without equality which also requires social responsibility. "Thorough our visit here to see the children, we hope to inspire others to join in this act of kindness and empowering the vulnerable in areas of health," she said.
The Dar office event was coordinated by Ifakara women staff led by Sheikha Salum, Rahiya Shariff and Adeline Nderumaki. Ms. Nderumaki – a senior branch administrative officer - was IFAKARA's Muhimbili visit program coordinator.
In Ifakara, where the initial branch of the Institute is located, women staff there, led by Administrative Officer Esther Abdulrahman, visited Mlabani Secondary School in Ifakara Town where they donated sanitary pads to 533 girls.
The donated pads were bought from generous contributions made mainly by female staff. "After the visit, we got together for special luncheon to mark the day," she said. Ifakara is the location where the Institute was born in 1956.
In Bagamoyo, the Ifakara ladies team went to Matimbwa Secondary School, which is located a few kilometers from the town center along the Bagamoyo-Msata road – to deliver a consignment of 500 sanitary pads bought from generous donations made by female staff based at the Bagamoyo branch.
The Ifakara team was granted the opportunity to give remarks where, researchers - Ummy Kibondo and Aneth Tumbo spoke on behalf of the group. While Ummy underlined cleanness and care for young girls, Aneth stressed on the girls acting confidently and daring to pursue their dream in life.
About International Women's Day
International Women's Day is a global day (marked annually on March 8th) celebrating the social, economic, cultural and political achievements of women. The day also marks a call to action for accelerating gender parity with significant activities witnessed worldwide as groups come together to celebrate women's achievements.
This year's campaign theme for International Women's Day is #BreakTheBias; both deliberate and unconscious. Bias makes it difficult for women to move ahead and the IWD community is urging that action is needed to level the playing field.