COMMEMORATION: It's World Children's Day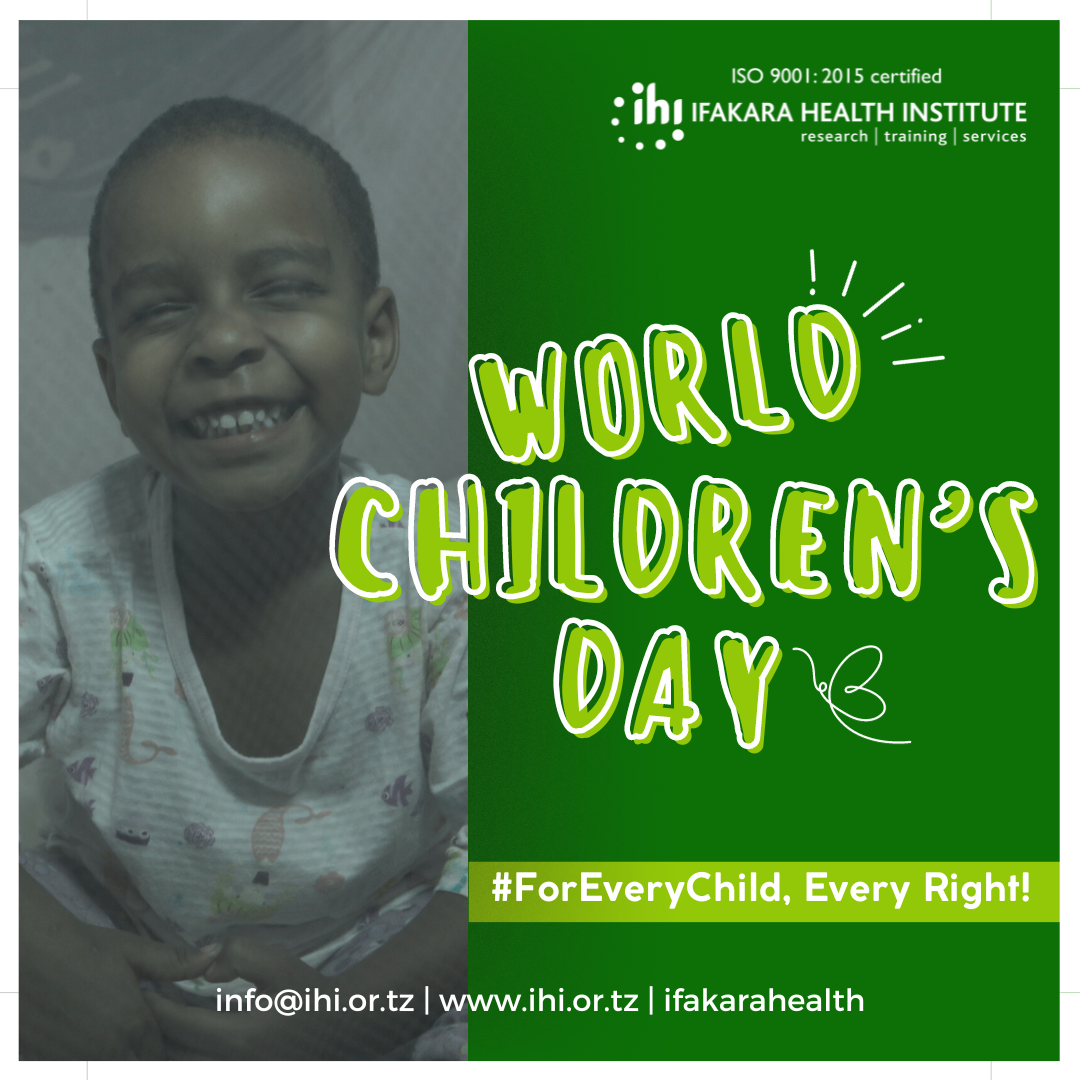 On this World Children's Day, Ifakara Health Institute proudly reaffirms its unwavering dedication to enhancing the health and well-being of children, not only in Tanzania but also globally.
Through comprehensive research, innovative interventions, and community engagement, we strive to create a world where every child has the opportunity to grow up healthy, happy, and fulfilled.
World Children's Day
World Children's Day is an annual observance dedicated to promoting the rights, well-being, and welfare of children across the globe. Celebrated on November 20th, this day marks the anniversary of the adoption of the Convention on the Rights of the Child by the United Nations General Assembly in 1989.
The Convention outlines the rights and protections that should be afforded to every child, regardless of their background or circumstances.
Read more about World Children's Day here
Here are notable projects and programs on children' health at Ifakara Health Institute:
NEST360 - Revolutionizing newborn care
One of our key initiatives in child health research is the NEST360 (Newborn Essential Solutions and Technologies) program, which stands as a global consortium committed to reducing newborn deaths by 50% in hospitals.
Currently active in Tanzania, Kenya, Malawi, and Nigeria, NEST360 is an evidence-based model facilitating sustainable health system change. The program addresses gaps in technology, markets, and human resources for the implementation of quality hospital-based newborn care on a national scale.
In Tanzania, the NEST program collaborates closely with the Ministry of Health to enhance the quality of comprehensive newborn care units as per national guidelines. The program, initiated in late 2019, is making significant strides in hospitals across Tanzania.
DYNAMIC - Empowering health workers with technology
The DYNAMIC project focuses on improving the quality of care for children (0-14 years) in low-resource settings. By implementing a novel point-of-care electronic clinical algorithm (ePOCT), connected to biosensors and rapid tests, health workers are guided and trained in the management of sick children.
The ePOCT+ innovation not only enhances health worker training but also contributes to reducing antibiotic prescriptions, systematizing data collection, and using machine learning to tailor algorithms in real-time, ensuring a more responsive approach to environmental changes.
Education, capacity building
Beyond our research initiatives, Ifakara is deeply committed to building the capacity of healthcare professionals such as doctors, nurses and community health workers. Through targeted training and resource provision, we empower individuals to actively contribute to promoting child health within their communities.
While celebrating the progress made so far by the institution in collaboration with local and international partners, we acknowledge persistent challenges, including inequalities in access to healthcare, education, and resources. Ifakara remains steadfast in addressing these challenges through ongoing research, advocacy.

Ifakara wishes all children everywhere a happy World Children's Day. Aligned with this year's theme, "For every child, every right" let us forge ahead, unlocking the full potential of every child and ensuring a brighter, healthier world for generations to come.