#RMNCAH2023: JK accelerates action for neonates!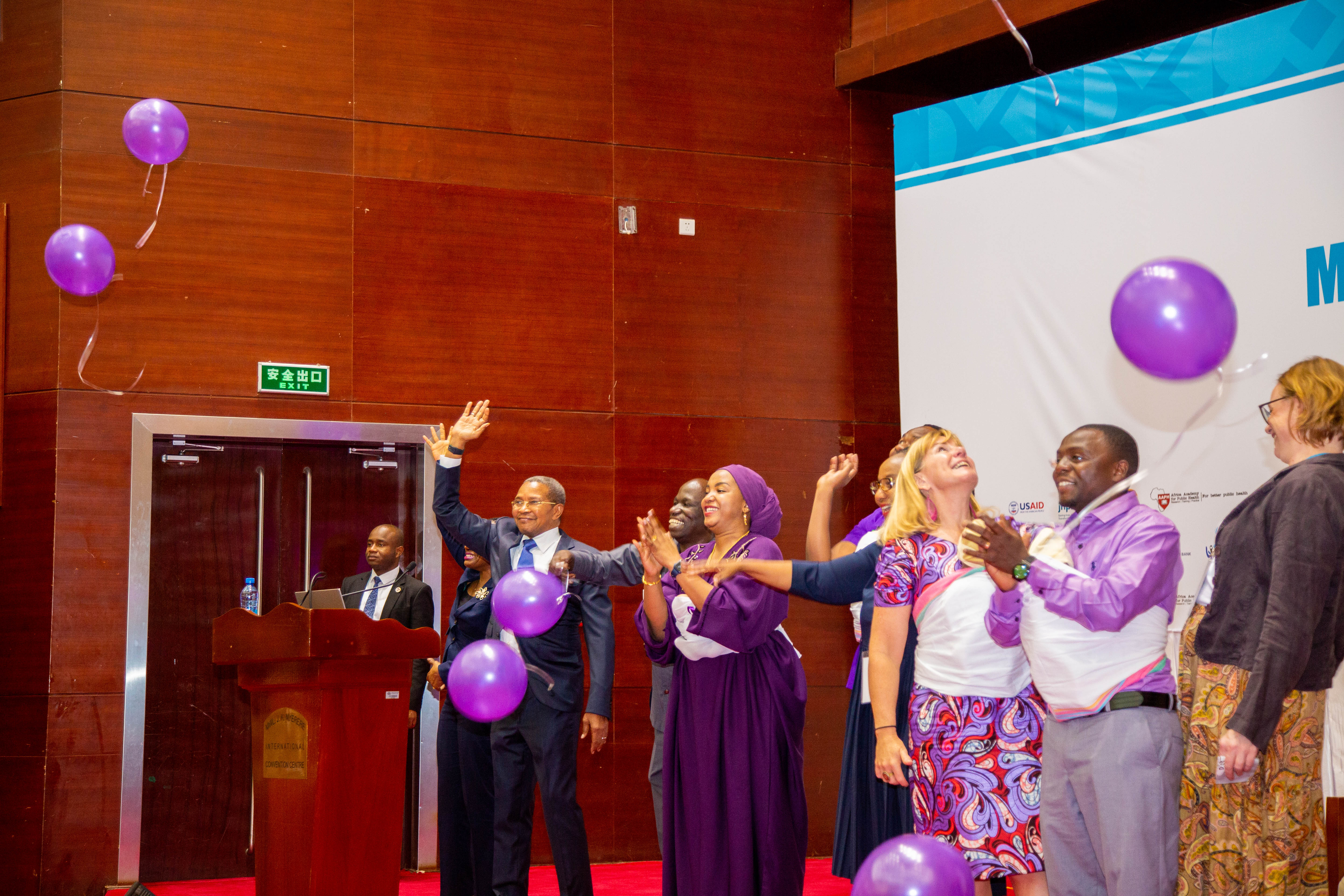 Today, to Commemorate World Prematurity Day 2023, former president Jakaya Kikwete launched a national acceleration plan to reduce neonatal mortality, this was during the Newborn Essential Solutions and Technologies (NEST360) plenary session with key national and international stakeholders on "Evaluating Newborn Care in Tanzania."
The acceleration plan marks the government's proactive response to the crisis, prompted by compelling evidence presented during a 2-hour session led by experts from the NEST360 team. The session featured Prof. Joy Lawn, Co-Principal Investigator at NEST360 and a Professor from the London School of Hygiene and Tropical Medicine, along with Clinical Lead Dr. Nahya Salim and Dr. Felix Bundala from the Ministry of Health.
The experts addressed the urgency of the issue and provided insights into the actions taken by NEST360 and the government thus far. Each expert offered compelling recommendations, emphasizing the need to "move faster together," a sentiment echoed by Prof. Joy. Their focus is on fostering collaboration to ensure no child is stillborn or faces mortality at birth.
A global and nation crisis
Prof. Joy, during her presentation emphasized the critical mission to prevent maternal mortality in Africa, declaring that "no woman on the continent should lose her life during childbirth and no child should die during childbirth".
Globally, a staggering 300,000 women face this tragic fate while giving life each year. With a stark annual toll of 9 million deaths among women and children worldwide, Africa bears the heaviest burden, as it accounts for 13% of the global population.
Prof. Joy stressed the need for African-led scientific initiatives to solve Africa's problems. Commending the work done by Ifakara Health Institute and its partners in addressing this crisis, pointing out that globally less than 35% of published research articles feature African authors.
Kikwete, aka "JK", emphasized the importance of the action plan presented by Dr. Grace Magembe, Deputy Permanent Secretary in the Ministry of Health. He urged regular updates and accountability, saying that "in the next meeting, each stakeholder should report their progress on President Samia Suluhu Hassan's directive for every hospital in Tanzania to have a Neonatal Care Unit, which she gave a few months back."
What is in the acceleration plan
Dr. Magembe, presented the plan by highlighting four key areas of focus, firstly to establish no less than 350 Neonatal Care Units countrywide, in both public and private hospitals, provision of tools and equipment, capacity strengthening through competency-based training and lastly, that the plan should be carried out with honesty and speed so as to meet babies in need at healthcare facilities at different levels.
This insightful session was held at the Second National Reproductive, Maternal, Newborn, Child, Adolescent Health, and Nutrition (RMNCAH+N) Scientific Conference, currently on its final day at the Julius Nyerere Convention Center in Dar es Salaam, Tanzania.
This discussion aligns with the global effort to achieve Sustainable Development Goal (SDG) targets in 2023, emphasizing the importance of collaborative efforts to combat neonatal mortality.
World Prematurity Day 2023
World Prematurity Day, observed on 17 November annually, aims to raise awareness of preterm birth and address the challenges faced by preterm babies and their families worldwide. The global theme for World Prematurity Day 2023 is "Small actions, BIG IMPACT: Immediate skin-to-skin care for every baby everywhere."
Skin-to-skin contact, especially vital for premature babies, has been proven to be highly effective. Initiated right after birth, this practice enhances the baby's awareness of touch and affection, playing a pivotal role in initiating and sustaining breastfeeding.
About NEST 360
The Newborn Essential Solutions and Technologies (NEST360) which is being implemented in Tanzania by Ifakara Health Institute and partners is a global consortium committed to reducing newborn deaths by 50% in hospitals, currently conducted in Tanzania, Kenya, Malawi, and Nigeria.
The program is an evidence-based model for sustainable health system change to close the gaps in technology, markets, and human resources for the implementation of quality hospital-based newborn care on a national scale.
In Tanzania, the NEST program works in close collaboration with the Ministry of Health, to improve the quality of comprehensive newborn care units as stipulated in the National guideline for neonatal care and the establishment of neonatal care units.
Phase I of the program started in late 2019 in three tertiary hospitals i.e., Muhimbili National Hospital (MNH Upanga), Muhimbili National Hospital (MNH Mloganzila) and Mbeya Zonal Referral Hospital. Implementation at Kilimanjaro Christian Medical Centre (KCMC) started in February 2022.
The three regional referral hospitals in Dar es Salaam i.e., Mwananyamala, Amana and Temeke started implementation in 2020. The tertiary hospitals will be the 'learning hubs' to ensure mentorship and supportive supervision within the selected regions.