#RMNCAH2023: On display is the CPIA - Ifakara's project on adolescents' sexual, reproductive health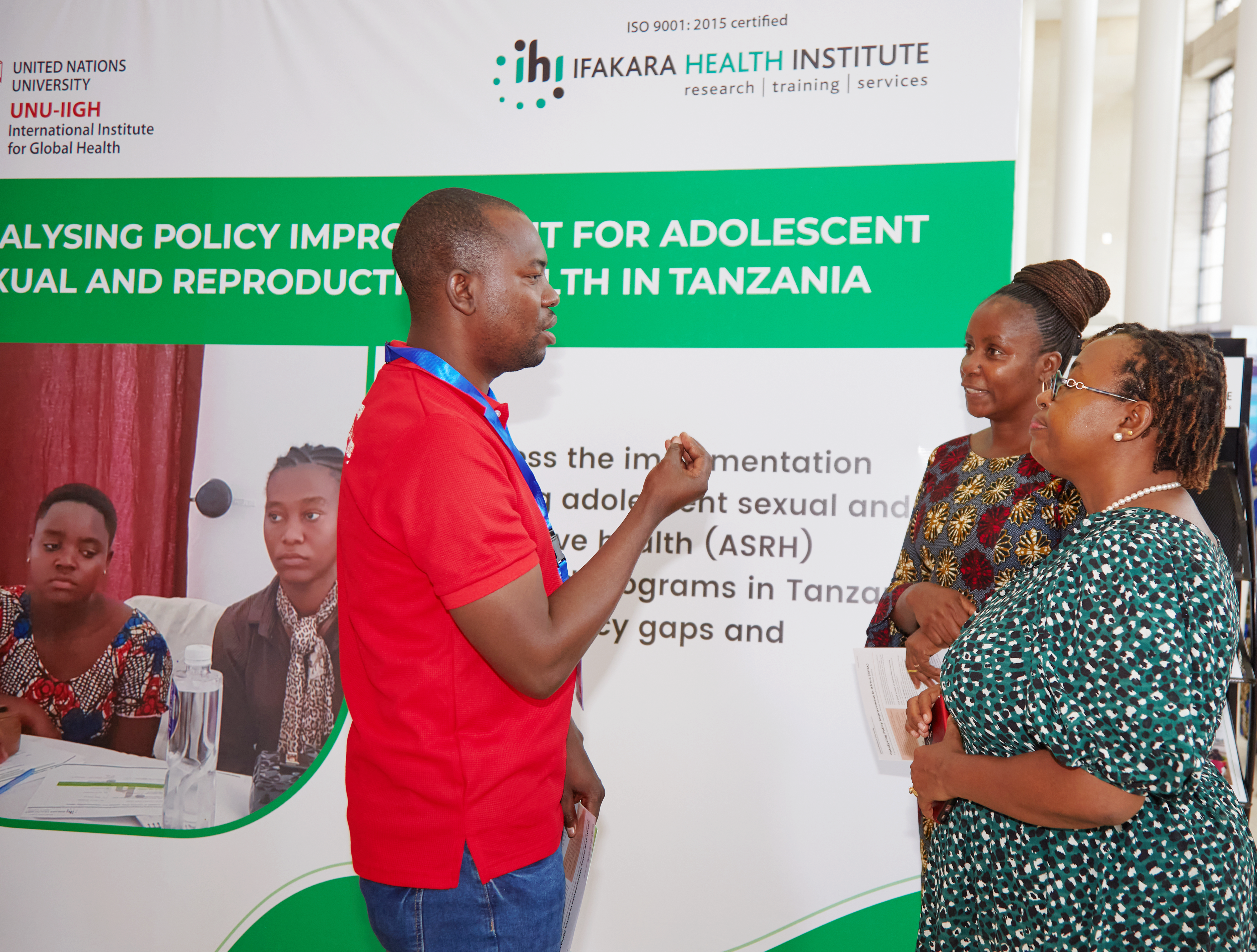 One of the major highlights of Ifakara Health Institute showcasing activities at the ongoing Second National Reproductive, Maternal, Newborn, Child, Adolescent Health, and Nutrition (RMNCAH+N) Scientific Conference, which kicked off yesterday, is the "Catalyzing Policy Improvement in Africa" – or simply CPIA – project.
The CPIA project team has camped at the Julius Nyerere International Convention Centre (JNICC) in Dar es Salaam, Tanzania where the three-day conference is being held, to engage with the different stakeholders, including briefing them on the project's ongoing work.
On display at the CPIA booth are the summaries of the project's team work in form of policy briefs and useful giveaways! Conference participants can access the materials at the booth free-of-charge.
What this project is looking to achieve
The CPIA Principal Investigator in Tanzania, Dr. Sally Mtenga, says the project aims to improve maternal, newborn, sexual and reproductive health policies in 5 African countries – Tanzania, Senegal, Burkina Faso, Uganda and Mozambique. It seeks to improve the effectiveness and efficiency of the national health research system and its value to policymakers within sub-Saharan African countries.
"Inadequate and uneven progress in maternal, newborn, sexual and reproductive health in sub-Saharan Africa, resulting from weaknesses in policy implementation are some of the factors this project wants to address and hopefully, participate in the contribution of making tangible policy outputs including improvements of existing policies – or making of new policies that will improve the situation," she explains.
The CPIA project is a collaborative project involving national core and international partners. The national core partners include: West Africa Health Organization (WAHO); School of Public Health, Makerere University; Ifakara Health Institute – IHI; and Universidade Eduardo Mondlane. International partners include the WHO Department of Maternal, Newborn, Child and Adolescent Health and Ageing and the WHO Evidence to Policy and Impact Unit, Geneva.
The RMNCAH2023 runs from Nov. 15-17
Ifakara is part of this major event which kicked off yesterday. It is dedicated to advancing access to quality services in the areas of reproductive, maternal, newborn, child, adolescent health and nutrition through evidence-based practices. It brings together experts, practitioners, and researchers in the field, providing a platform to exchange knowledge and foster collaboration.
Ifakara scientists use the platform to showcase their groundbreaking work through exhibitions, panel discussions and presentations. As the conference unfolds, attendees can expect insightful discussions and presentations that contribute to the ongoing efforts to improve healthcare outcomes in Tanzania and beyond.
Former Tanzania President Jakaya Kikwete visited Ifakara booths on Day 1 where he was briefed about the project activities. Kikwete is among the key global figures supporting and in leadership of public health, particularly in developing countries.
>> More about CPIA – Tanzania.