ENGAGEMENT: Ifakara showcases work at farmers' fair in Moro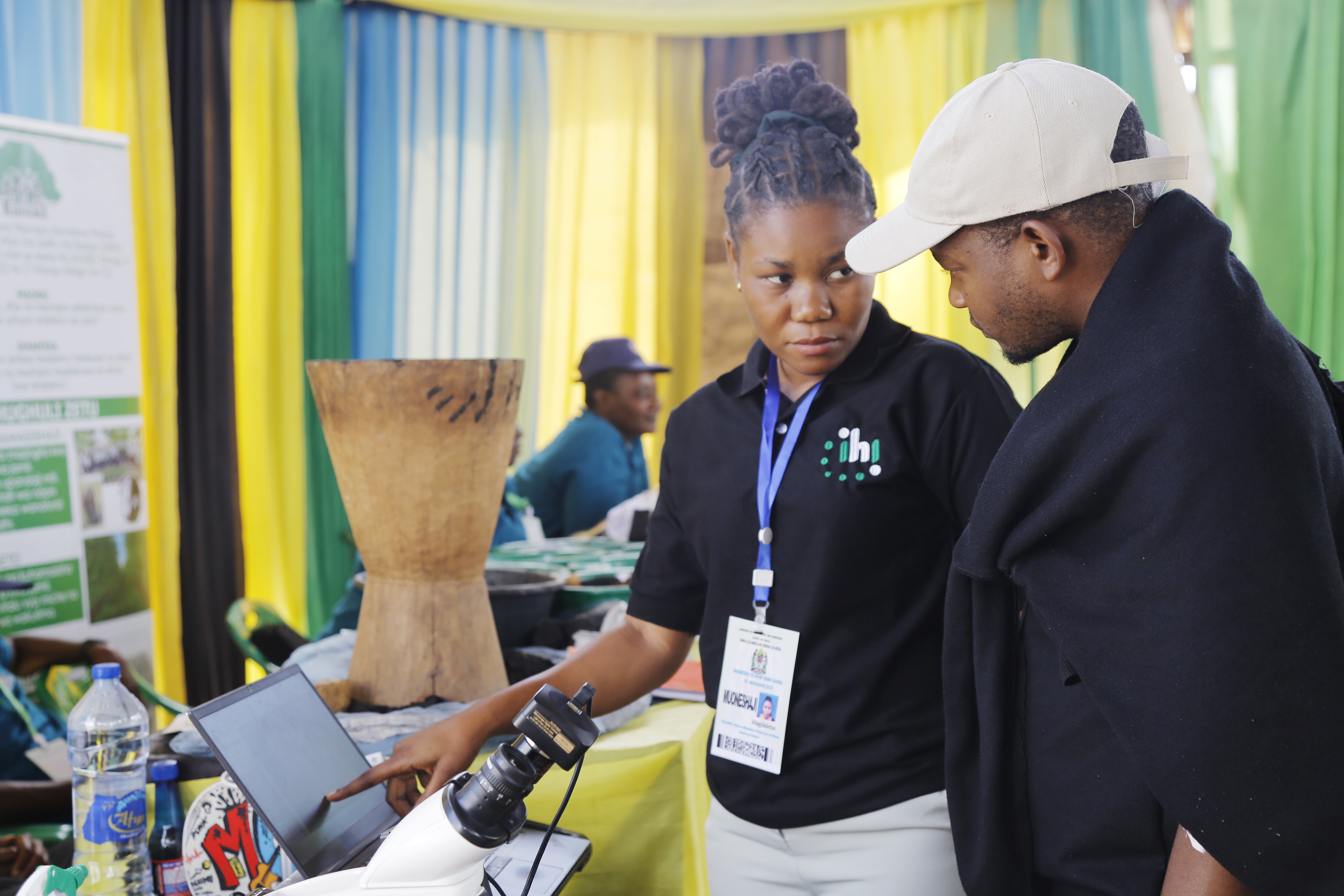 In commemorating this year's annual Farmer's Day, Ifakara Health Institute participated in a week-long agricultural fair at the Julius Nyerere Exhibition grounds in Morogoro from August 2-8. The Fair – "Nane Nane" as it is popularly known – was marked at the national level in Mbeya region.
The Ifakara team of five, led by Ifakara Branch Community Engagement Coordinator Faraji Abilahi, actively showcased Ifakara Health Institute's work and core functions throughout the exhibition period including providing malaria screening free of charge to some visitors.
Abilahi was joined by colleagues, Alex Limwagu, Magdalena Isaya, Francis Allen Tumbo and Michael Mazumba. The team of five showcased Ifakara projects and activities related to malaria. They also demonstrated Ifakara tools and equipment like mosquito traps and microscopes and shared knowledge related to diseases, vectors, and relevant information related to research findings associated with health.
Speaking about the event on August 8, Abilahi said, "So far, we have been able to provide education on mosquitoes that transmit malaria. We have also provided education on how malaria is transmitted from an infected person to a mosquito and from a mosquito to a human, and explained to some visitors why mosquitoes do not transmit HIV as this was among the most asked question by stakeholders."
The Ifakara team exhibited inside the Ifakara Town Council pavilion which falls under the Show's eastern zone cluster formed by councils found within four regions, namely: Morogoro, Dar es Salaam, Coast and Tanga.
Ifakara's participation was at the invitation of the Ifakara Town Council. Ifakara has a long-standing relationship with the government of Tanzania and uses the platform to connect with farmers and intensify its relationship with the government and other agencies.
Throughout the exhibition period, the Ifakara booth attracted hundreds of visitors from farmers, students and government officials. On the climax day, August 8, the Ifakara team welcomed some key guests at their booth. The guests included Kilombero Member of Parliament, Mr. Abubakar Asenga.
About "Nane Nane"
"Nanenane" fairs are a national event in Tanzania celebrated to recognize farmers' contribution to the economy. They provide an opportunity for farmers and other stakeholders to exchange knowledge and business and are observed on August 8, every year. Usually, the first week of August is all about agriculture in Tanzania.
Nane Nane means "eight eight" in Swahili, the national language of Tanzania. At the Nane Nane Agricultural Exhibition, farmers and other agricultural stakeholders (such as, universities and research institutes, input suppliers or fertilizer producing industries) showcase new technologies, ideas, discoveries and alternative solutions concerning the agricultural sector.
Nane Nane is a fair where government and private firms present their services and activities to the public. Every year the national Nane Nane show takes place in different locations of Tanzania. Ifakara has been part of these annual fairs for the eastern zone staged in Morogoro Municipality where exhibitors come from Dar es Salaam, Coast, Morogoro and Tanga regions.
>> Photos: https://ifakarahealthinstitute.smugmug.com/Farmers-Day-Ifakara-at-the-Nane-Nane-Show-in-Morogoro-/