PLANNING: NEST360 defines next steps at strategic meets in Dar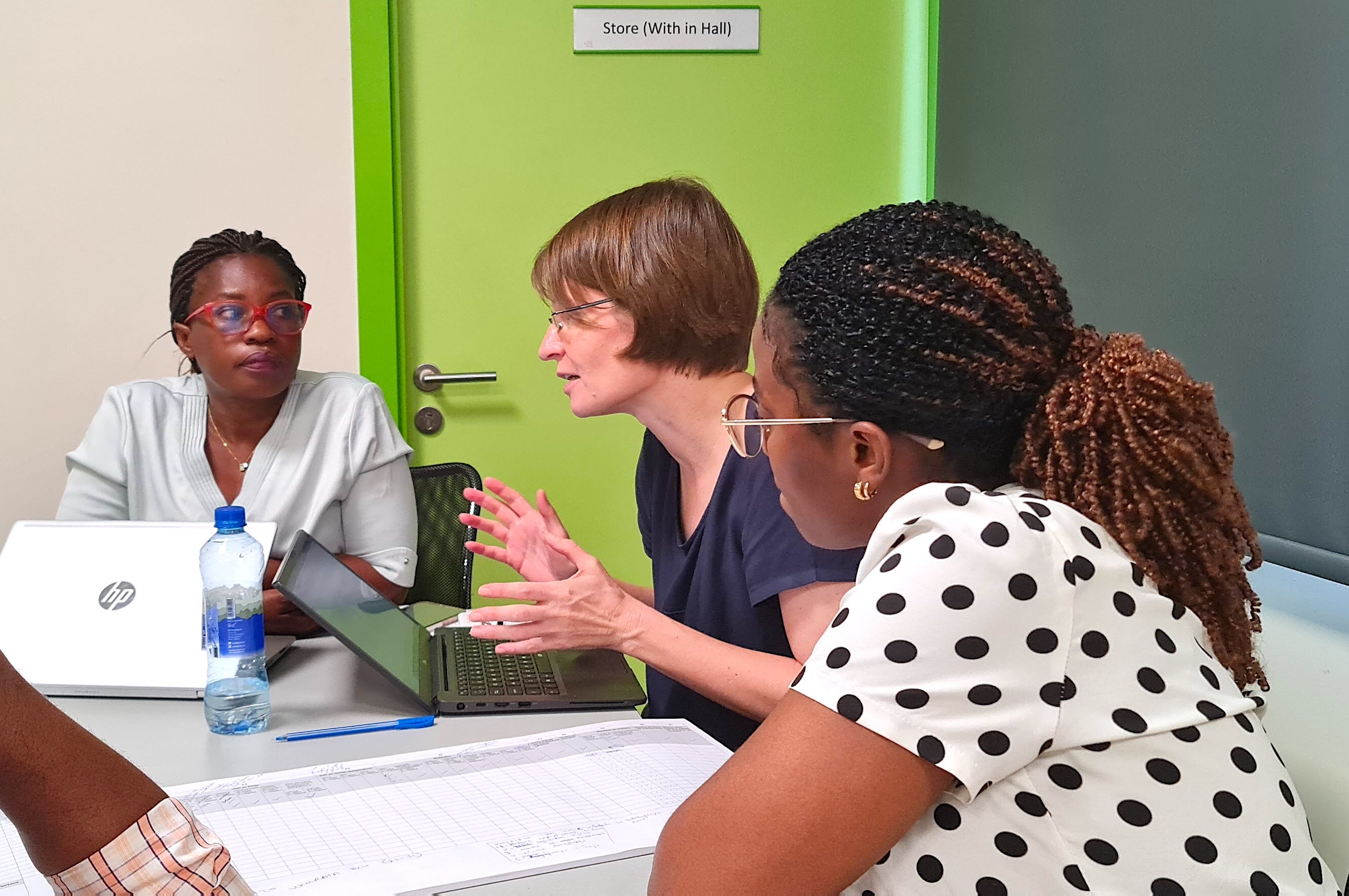 In a significant stride towards reducing neonatal mortality rates, the Newborn Essential Solutions and Technologies (NEST360) program has organized two concurrent events in Dar es Salaam, Tanzania, as part of its mission to save newborn lives.
These events, held between July 31 and today, brought together various stakeholders with the common goal of forging a path for the program's future success.
Technical Workshop for Neonatal Care Units at CCBRT
The first event, Technical Workshop for the Finalization of Neonatal Care Units, was held at the CCBRT Hospital in Dar es Salaam. The meeting focused on technical improvements to the program's implementation. Nancy Rumazi, a Registered Nurse from Muhimbili National Hospital - Upanga, and Monica Frey, a Neonatologist from Deutsche Gesellschaft für Internationale Zusammenarbeit (GIZ), presented critical insights to improving the Kangaroo Mother Care (KMC) patient register currently in use at health facilities.
Dr. Maria Bitwale from Temeke Regional Referral Hospital delivered a compelling presentation on Standard Operating Procedures (SOPs), providing valuable guidance on machines and medication necessary to strengthen the program's impact in the next phase.
Improvements to the floor-plan for the neonatal care facility were presented by architects from the Ministry of Health (MoH) and the President's Office – Regional Administration, and Local Government (PO-RALG). These finalized plans are expected to significantly enhance the capacity and efficiency of neonatal care in the region.
NEST program review meeting
Simultaneously, a 2-day Program Review Meeting kicked off at Protea Courtyard on July 3, bringing representatives from several local healthcare facilities. The meeting provided an invaluable platform to assess the progress, challenges, and learnings of the NEST360 program during its Phase 1 implementation in Tanzania.
Facilitated by Dr. Nahya Salim, the NEST360 Country & Clinical Lead, the meeting had three outcomes. Firstly, stakeholders were informed of the Ministry of Health's direction for Small and Sick Newborn Care (SSNC) in the country.
Secondly, the importance of data-driven decision-making was emphasized, with the unveiling of new updates to the groundbreaking NEST-IT Implementation Tracker, presented by Josephine Shabani, a Research Scientist at Ifakara. The tracker is an innovative tool for data management, analysis, and use in newborn care, enabling more targeted and effective interventions.
The third objective was to collectively strategize ways to increase coverage for hypothermia and Continuous Positive Airway Pressure (CPAP) interventions for neonates.
Health Ministry represented
The meeting witnessed inspiring speeches from Dr. Felix Bundala, Assistant Director of Newborn, Child, and Adolescent Health in the Ministry of Health, who stressed the importance of comprehensive healthcare system coordination for successful neonatal care.
The meeting was attended by representatives from Ifakara and beneficiaries of the NEST program namely: Mwananyamala Regional Referral Hospital; Muhimbili National Hospital – both Upanga and Mloganzila wings; Amana Regional Referral Hospital; Temeke Regional Referral Hospitals; Kilimanjaro Christian Medical Centre; and Mbeya Zonal and Referral Hospital.
'Committed to collaboration, shared responsibility'
Both events demonstrated NEST360's commitment to collaboration and shared responsibility, made apparent by its Country Liaison, Catherine Paul's ability to efficiently address the participants' questions and concerns, ensuring a productive and enlightening exchange of ideas.
In both gatherings Dr. Felix Bundala, Assistant Director of Newborn, Child, and Adolescent Health, emphasized on the crucial need for close coordination and a comprehensive approach to newborn care, from the labor ward to postnatal care units, he highlighted that a successful reduction in neonatal mortality relies on having good infrastructure, appropriate tools, and skilled manpower.
He also expressed his admiration for the fruitful collaboration between NEST360 and local health care facilities. He praised the outstanding work carried out thus far in supporting these facilities and reaffirmed the government's commitment to reducing neonatal mortality rates.
About the NEST360 Program
The NEST360 program is a global initiative dedicated to reducing newborn deaths by 50% in hospitals. Currently, the program is being conducted in Tanzania, Kenya, Malawi, and Nigeria. The evidence-based model focuses on achieving sustainable health system change by addressing gaps in technology, markets, and human resources for quality hospital-based newborn care.
In Tanzania, the NEST360 program is implemented by Ifakara Health Institute and various partners. Working closely with the Ministry of Health, Phase I of the program commenced in late 2019 and is currently being implemented in seven hospitals within three regions in Tanzania. These regions include Dar es Salaam (Muhimbili National Hospital, Muhimbili Mloganzila, and Amana, Mwananyamala, and Temeke Regional Referral Hospitals), Kilimanjaro (Kilimanjaro Christian Medical Centre), and Mbeya (Mbeya Zonal and Referral Hospital).
>> For more photos follow this link.