VISIT: Ifakara welcomes Swiss TPH delegation in Dar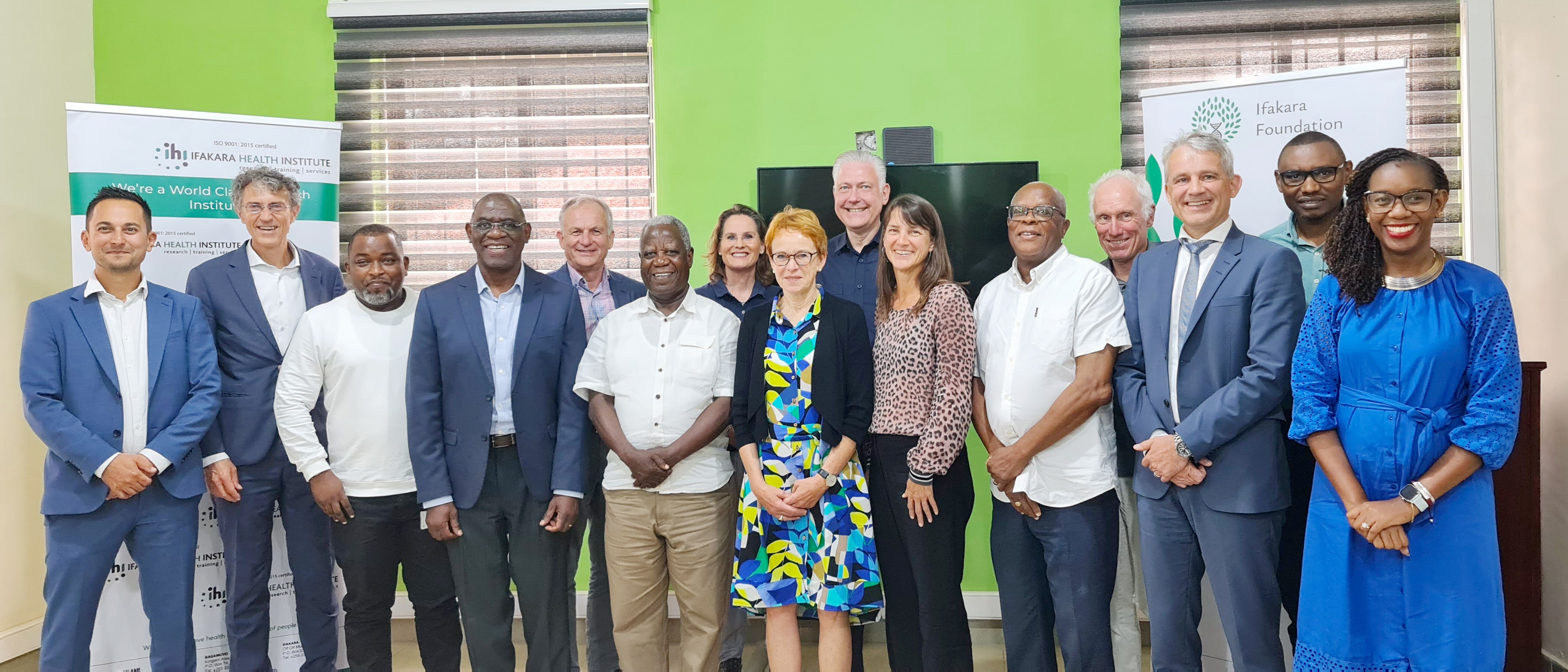 Today, a high-profile delegation from the Swiss Tropical and Public Health Institute (Swiss TPH) visited the Ifakara Health Institute's offices in Mikocheni, Dar es Salaam. Ifakara and Swiss TPH have a long-standing partnership, and the group's visit underlines their commitment to strengthening collaboration.
Ifakara's Chief Executive Director, Dr. Honorati Masanja, extended a warm welcome to the delegation, which was led by Swiss TPH Director Jürg Utzinger who is also the President of the R. Geigy Foundation. Mr. Utzinger was joined by colleagues who included Eva Herzog, Mathias Kronig, Christian Lengeler, Lutz Hegemann, Katrin Hegemann Pinsker, Thomas Müller, Fabian Herzog, Valentin Herzog, Beat Jans, Tracy Glass-Jans, Zoe Jans and Mia Jans.
In his welcome note, Dr. Masanja expressed his enthusiasm for the visit, which will involve the Swiss TPH group visiting all three Ifakara offices and research sites in Dar es Salaam, Bagamoyo, and Ifakara.
Dr. Masanja briefly gave a background history of the collaboration between Ifakara and the Swiss TPH since its founding as well as an overview of Ifakara as an independent Tanzanian organization. In addition, he also shared the overall mission and vision of the Ifakara Institute planned in its most recent five-year strategy.
Also, present alongside Dr. Masanja to welcome the Swiss TPH team was Prof. Charles Mgone, Chair of the Ifakara Board, Dr. Zawadi Mageni Mboma, the Head of the Grants and Contracts Office at Ifakara and Dr. Jerry Hela, Acting Head of the Interventions and Clinical Trials Department at Ifakara.
The visit concluded with both institutions getting the chance to officially witness the signing of the Ifakara Foundation Constitution. The heads of R. Geigy Foundation, Ifakara Health Institute, and Ifakara Foundation participated in the document signing for the foundation that is being incubated at the R. Geigy Foundation based in Switzerland.
>> Click here for more photos from the visit.