CALL: Ifakara accepts abstracts for its annual scientific conference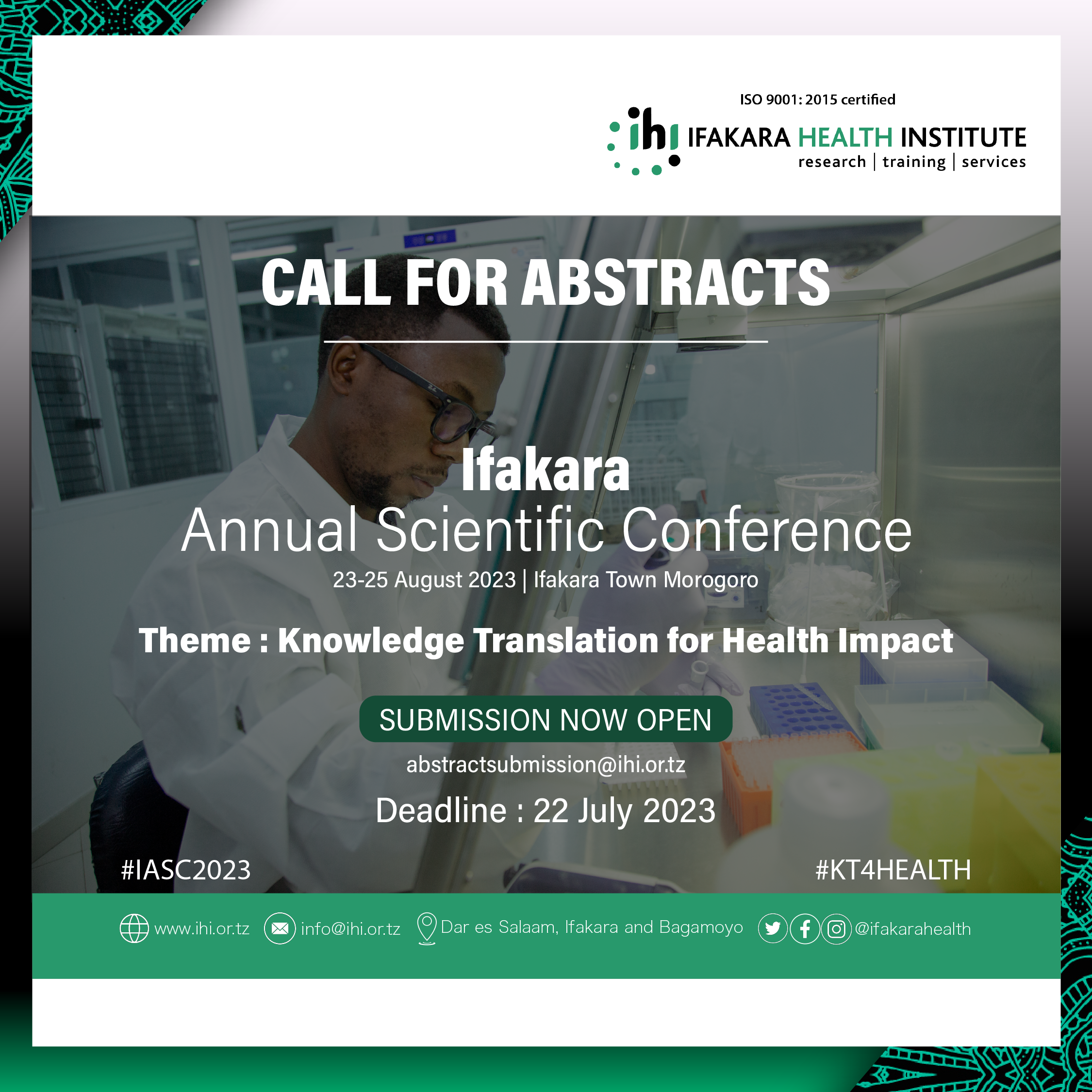 The Ifakara Annual Scientific Conference (IASC2023) will take place from August 23-25 in Ifakara Town in Morogoro, Tanzania at the Homeland Hotel. The conference theme is "Knowledge Translation for Health Impact". This year's IASC will mark the conference's comeback after a three-year hiatus.
The conference organizing team is pleased to invite Ifakara scientists to submit abstracts for consideration for the IASC2023. Kindly note, the call is open to Ifakara Health Institute staff and collaborators only. However, participation will also be open to selected partners on invitation. Information on registration will be availed later.
The abstracts must be submitted by email: abstractsubmission@ihi.or.tz by July 22, 2023. The abstract should align with the main theme of the conference and focus on the following subthemes;
Advancing research in environmental health and ecological sciences to have a greater impact on health.

Exploring the role of evidence in guiding actions, decisions, and policy-making in health systems, impact evaluation, and policy development.

Addressing contemporary issues in intervention and clinical trials.
Authors who submit an abstract can be asked to give one oral presentation. Moreover, additional papers may be considered for poster sessions at the discretion of the Abstracts Technical Lead and the IASC2023 Organizing Team.
The IASC2023 is designed to bring together researchers with diverse backgrounds within the Institute to share their expertise. Through keynote speeches, panel discussions, and workshops, participants will have the opportunity to learn about the latest advances in research and strategies for improving health outcomes.
This year's IASC2023 conference on "Knowledge Translation for Health Impact" is a valuable opportunity for Ifakara scientists to learn, network, and collaborate with others, with the shared goal of improving health outcomes for all.
More information about abstract submission can be found here.