POLICY COMMUNICATION: Ifakara shares results on evaluation of HIV, family planning services integration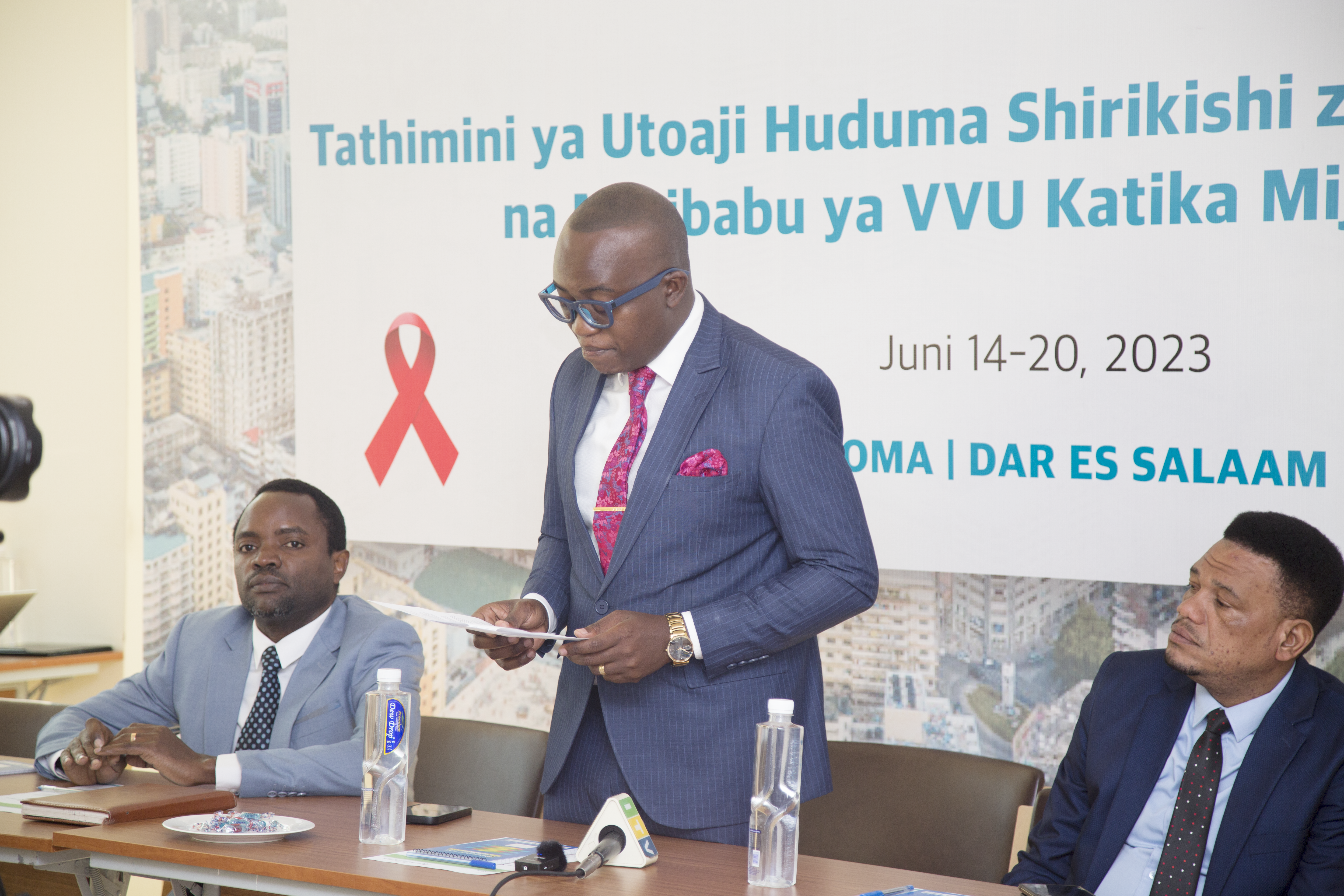 An fakara Health Institute team, led by Senior Research Scientist Dr. Francis Levira, hosted a series of meetings in Dodoma and Dar es Salaam between June 14-20 to disseminate findings of a study which evaluated integration of family planning and HIV services.
The study, which specifically assessed modern contraceptive uptake among HIV-positive women of reproductive age accessing HIV care and treatment services was conducted in Dodoma and Dar es Salaam cities from 2021-22.
Dissemination meeting in Dodoma
In Dodoma, the dissemination event was held at the OSHA conference facility on June 15. Participants include Dodoma urban constituency representatives and technical personnels – members of Parliament, councilors, experts from the regional medical office, selected media and other public health stakeholders.
Dignitries present included, the Deputy Mayor for Dodoma, Jamali Ngalya; Chairperson of the parliamentary committee on Social Services, Fatma Taufiq; Dodoma City Medical Officer, Dr. Andrew Method.
Dodoma MP Mavunde officiates
A deputy minister in the Tanzanian government, who is also a parliamentarian for Dodoma urban, Athony Mavunde, officially opened the half-day meeting. As a representative of the Dodoma urban constituency people, Mavunde joined ward councilors and other public health stakeholders in listening to and contributing to the study findings.
Dr. Levira, who shared the results and also sat in a policy forum that explored opportunities for using the study findings, said the evidence is essential in informing family planning programming in Tanzania, particularly in urban settings.
The study, titled: "Modern Contraceptive Use among HIV-positive Women in Tanzania: Does Family Planning and HIV Services Integration Makes a Difference?" was conducted in 25 health facilities in Dodoma (12) and Dar es Salaam (13) cities.
GOT, Gates acknowledged as key partners
Dr. Levira used the opportunity to acknowledge the contribution of the Government of Tanzania (GOT) in facilitating research in its health facilities and for making Tanzania HIV impact survey (THIS) data accessible to researchers.
Dissemination meeting in Dar
In Dar es Salaam, Dr. Levira's team hosted a similar dissemination meeting with public health stakeholders and local governament officials. The event was held on June 20 at the PSSSF Commercial Complex.
Dr. Levira shared with the participants key higlights from the study including key observations and recommendations to improve modern contraceptive use among HIV-positive women living in urban Tanzania.
According to Dr. Levira and team, the government and development partners ought to take 'necessary steps' and expand family planning and HIV services integration intervention, particularly training healthcare workers in family planning counselling at HIV care and treatment clinics (CTC).
For their part, the local government authorities and public health stakeholders discussed and unanimously decided to act on the provided recommendations when informing family planning programming in Tanzania in accordance with the study's findings.
The research was funded by a grant from the Bill and Melinda Gates Foundation to the International Union for the Scientific Study of Population.