OUTREACH: Hundreds of children benefit from a cardiac screening program led by Ifakara, partners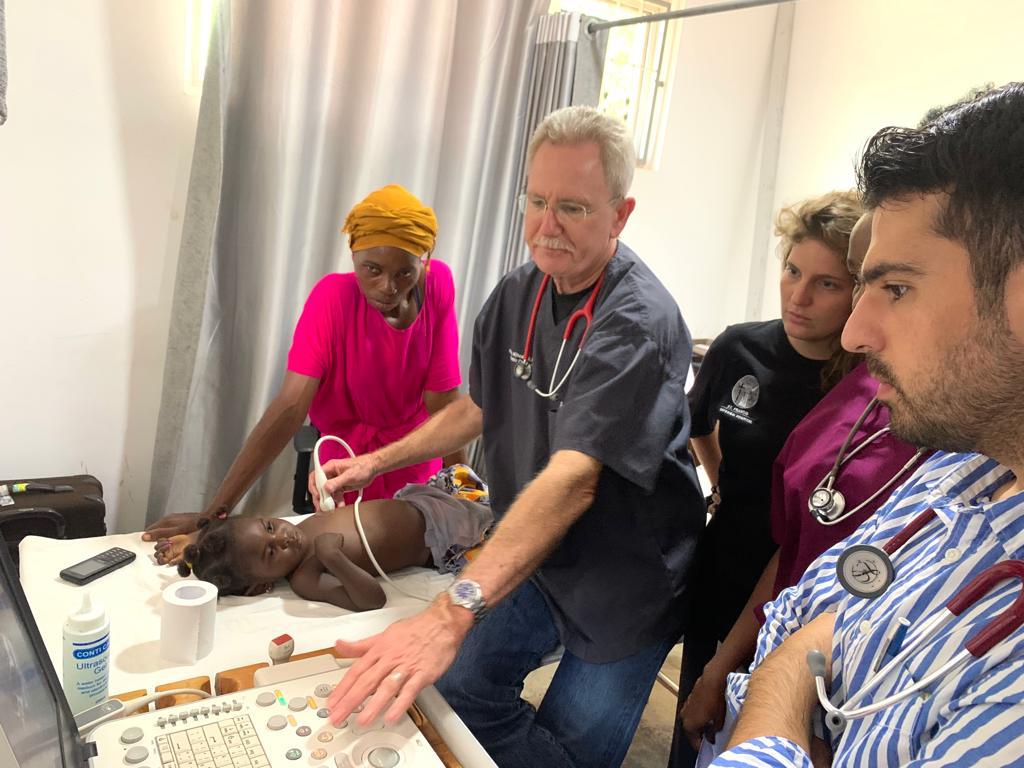 A total of 168 children benefited from a pediatric cardiac screening outreach program which was organized by The One New Heart Tanzania in collaboration with For Hearts and Souls from the USA, Benjamin Mkapa Hospital and Ifakara Health Institute from Tanzania.
The special outreach program took place at the Ifakara Heart and Lung Clinic which is located within the St Francis Referral Hospital (SFRH) in Ifakara Town, Morogoro Region from March 26-27, 2023.
"This event was very successful, it was a two days event, at which we attended a total of 168 children. Twenty-five out of these 168 were found to have diseased hearts that actually needed specific surgical interventions," recounted Andrew Katende, from The Heart and Lungs Disease Clinic Ifakara.
Mr. Katende was accompanied by Dr. Martin Rohacek, a clinician specializing in Internal Medicine and Emergency Medicine, along with other thirteen team members from The Heart and Lung team and the nutrition team.
Twelve children are expected to benefit from the upcoming surgical cardiac camp at Benjamin Mkapa Hospital in Dodoma. The hospital has been collaborating with The One New Heart Tanzania to provide access to medical care for children who will require open-heart surgeries and cardiac catheterization procedures.
Through this collaboration, which also includes Ifakara Health Institute, St Francis Referral Hospital and For Hearts and Souls, children diagnosed with heart problems living in rural areas of Kilombero and Ulanga districts have been offered a chance to have free cardiac screening and surgical intervention.
"From the start of this collaboration, six children from the heart and lung clinic, Ifakara, have undergone free surgical cardiac interventions at the Benjamin Mkapa Hospital," said Mr. Katende.
The team from Benjamin Mkapa Hospital was led by Prof Kirk Milhoan, a Pediatric Cardiologist, Dr. Rehema Yona, a Pediatrician, Dr. Victor Zablon Urio, a Pediatrician, and Pietro Chille, a Perfusionist.
Speaking ahead of the event, the Director of ICT and Development at The One New Heart Tanzania, Mr. Godfrey Maro said, "We recognize Ifakara Heart and Lung Diseases Clinic as one of the leading health facilities in Tanzania providing high-quality medical care for heart and lung diseases. This is why we believe Ifakara is the ideal location for the screening outreach program, where we can work together to provide life-saving treatment for children in need."
More About the Heart & Lung Clinic
The Heart and Lung Clinic is a specialized clinic at St Francis Referral Hospital funded by Else Kröner-Fresenius-Stiftung (EKFS) under the project entitled, "Tackling the Hidden Epidemic of Non-Communicable disease in sub-Saharan Africa" being implemented by Ifakara Health Institute, Charite University, Berlin, SwissTPH, St Francis Referral hospital, Ifakara and University Hospital of Basel.
The Heart and Lung Clinic team conducts regular monthly screening and awareness events to sensitize the general population and healthcare workers in Kilombero District about non-communicable diseases.