#IWD2023: Collectively we can all #EmbraceEquity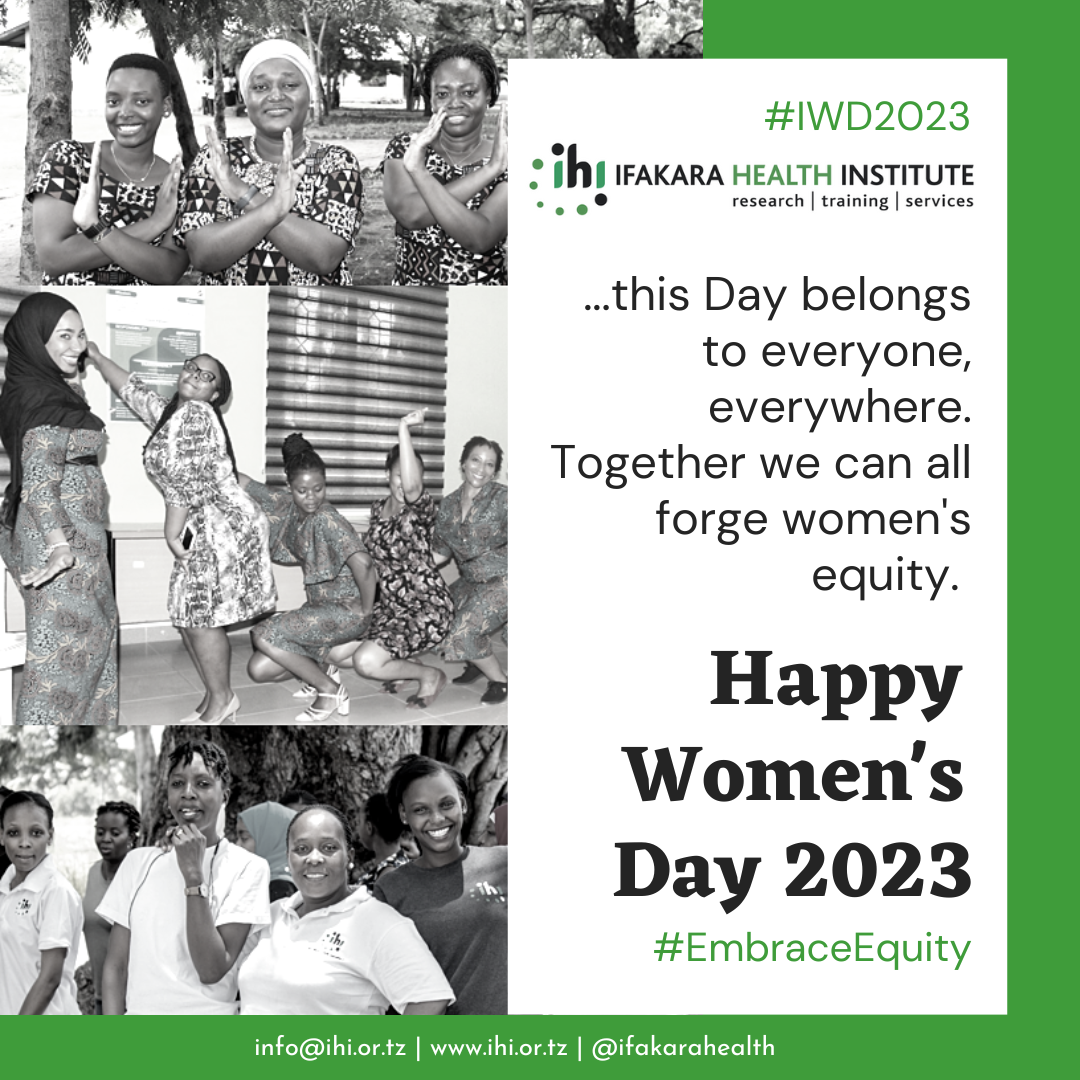 It's Women's Day today! Ifakara Health Institute ladies across all our branches and offices – Ifakara, Bagamoyo and Dar es Salaam – have gone outdoor for strategic engagements with communities, particularly those who're underprivileged.
Ifakara ladies' strategic engagements
A group of Dar es Salaam Office ladies organized a visit to Hisani Orphanage Center (HOTC) – a certified home for orphaned children which is located in Mwasonga area in Kibada, Kigamboni District.
As for Bagamoyo ladies, their coordinator, Ms. Rose Philipo, says they are also visiting a remote secondary school at Kingani – some 5-6 kilometers from the Bagamoyo Town center – to give their donation of assorted food and other items.
In Ifakara, the ladies visit patients at the St. Francis Referral Hospital to donate assorted food and other items as well. The items include pampers, soft drinks and snacks for children. "Our engagement is brief, but fruitful. We focus on giving what actually patients need," remarks the event coordinator there, Ms. Esther Abdulrahman.
>> Link to #IWD2023 events in Dar: https://ifakarahealthinstitute.smugmug.com/WD-Dar-es-Salaam/
>> Link to #IWD2023 events in Ifakara: https://ifakarahealthinstitute.smugmug.com/Ifakara-ladies/
>> Link to #IWD2023 events in Bagamoyo: https://ifakarahealthinstitute.smugmug.com/Womens-Day-in-Bagamoyo/
Director's message calls for all to #EmbraceEquity
Meanwhile, the Chief Executive Director has issued a special statement on the Day in which he affirms the Institute's commitment to give women staff of the organization equal rights, opportunities and the future they deserve.
"IFAKARA Health Institute has a long history of providing an equal space and future for women and all other staff. The principle of equal opportunity has guided our planning and measures to provide a work environment where women are free from bias, stereotypes and discrimination based on their gender – a work environment that gives them their deserved opportunity to serve and change the Institute, the country, and the world," read the statement in part.
He says that Ifakara's planning has always embraced gender equity, strategically focusing on creating a world that's diverse, equitable, and inclusive; a world where difference is valued and celebrated. "Women represented in all key decision-making organs i.e., the Board of Governors, Board of Trustees, Scientific Advisory Committee, Finance Audit and Risk Committee and the Management Committee," notes the Director.
>> Read the full statement here: Let's collectively #EmbraceEquity.