PARTNERSHIP: Ifakara, Nelson Mandela university sign new MoU to improve training, capacity building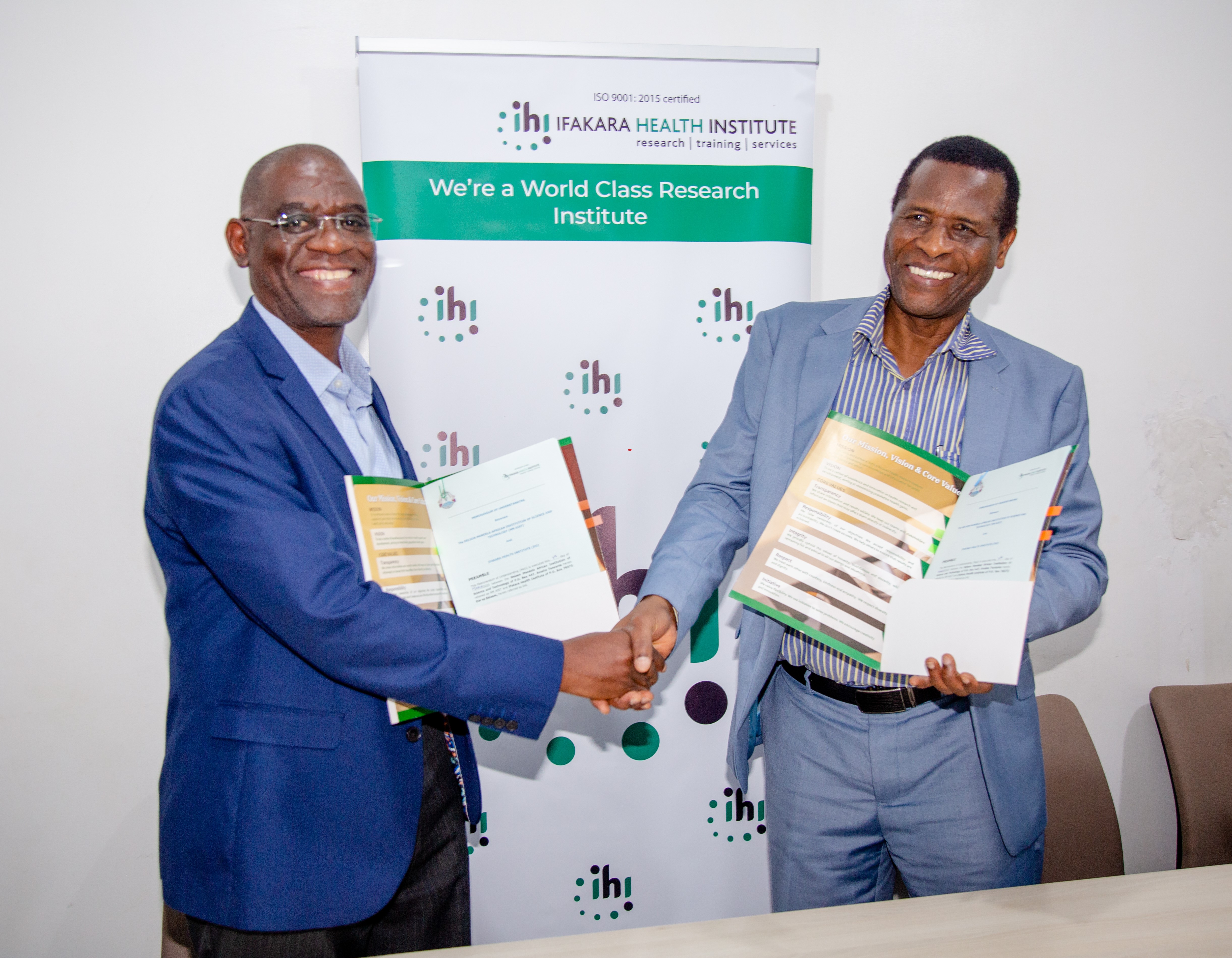 Ifakara Health Institute (IHI) and the Nelson Mandela – African Institution of Science and Technology (NM-AIST) today in Dar es Salaam signed a Memorandum of Understanding (MoU) to further improve their partnership in training and capacity building of highly skilled scientists for the African continent.
Ifakara's Chief Executive Director, Dr. Honorati Masanja, and his counterpart, Prof. Anthony Mshandete, the NM-AIST Deputy Vice Chancellor for Academic, Research and Innovation, signed the MoU on behalf of their institutions with representatives present to witness the occasion.
The signing was witnessed by Dr. Kafuruki Shubis - Ifakara's Head of Training and Capacity Building; Mr. Raphael Laizer - Ifakara's Chief Operating Officer; Dr. Zawadi Mageni Mboma - Ifakara's Head of Grants and Contracts Office; Prof. Suzana Augustino - NM-AIST Deputy Vice-Chancellor Planning, Finance, and Administration and Dr. Ernest Mbega - NM-AIST Dean of the School of Life Sciences and Bioengineering.
Currently, Ifakara and NM-AIST run a joint master's program in public health focusing on research in line with another MoU signed previously. The program is taught at the Ifakara Health Institute's Training Center based at Kingani, Bagamoyo in the Coast Region.
The program is designed for young university graduates who are interested in becoming public health researchers. Modules are suited for a complete Master's degree, but can also be taken in parts as a foundation for PhD candidates.
The new bipartite agreement signed today will enable the two institutions to partner and collaborate in training, research, innovation development, community engagement and commercialization that will enable them to achieve their mission of training the best scientists and engineers for the region and Africa at large.
Among other things, the partnership will improve the standards of health sciences training and allow the development of innovative training programmes. The partnership will also foster capacity building and related human capital development of both institutions to sustain such innovations.
While NM AIST is striving for a combination of strong local and global connections, and partnerships to realize its vision and achieve its mission, Ifakara is keen to expand its training activities mainly focussing on post-graduate and post-doctoral training.
In his remarks, Dr. Masanja said the signing step was long overdue and looking forward the new patnership with NM-AIST will undoubtedly be beneficial to many students.
For his part, Prof. Mshandete passed on a word of thanks on behalf of NM-AIST and expressed his delight to continuing collaborating with Ifakara to implement the development of innovative training programmes.