DISSEMINATION: Project on care for critically ill patients shares research findings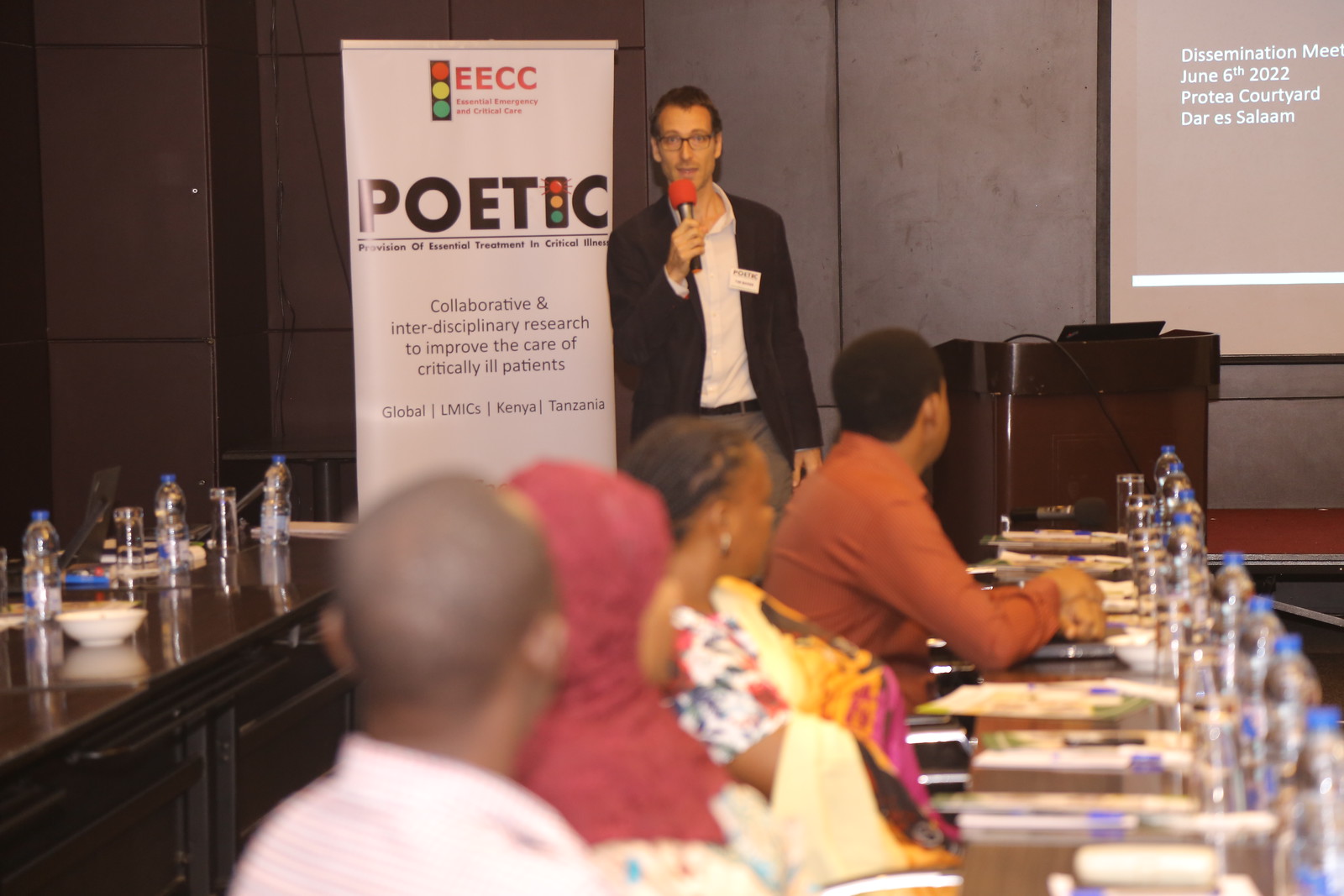 After two years of extensive research which aimed to improve the care of critically ill patients, Ifakara Health Institute and partners held a dissemination meeting with stakeholders in Dar es Salaam to discuss the findings of the Provision of Essential Treatment in Critical Illness (POETIC) project.
The project was conducted from 2020 to 2022 in Tanzania in collaboration with the Muhimbili University of Health and Allied Sciences (MUHAS).
The meeting was attended by policymakers, decision-makers, researchers, representatives from the government and various organizations in the health sector which included PO-RALG, World Health Organization (WHO), PATH, Association of Private Health Facilities in Tanzania (APHFTA), Jakaya Kikwete Cardiac Institute (JKCI) and Clinton Health Access Initiative (CHAI).
To officially open the meeting, the guest of honor, Prof. Andrea B. Pembe, the Vice-Chancellor of MUHAS said in his opening remarks, "The health system not only in Tanzania but in other parts of the world is not stable and sufficient enough to provide the services required by critically ill patients. Better interventions are therefore crucial."
Finalizing his remarks, Prof Pembe – a great supporter of the POETIC project, expressed his optimism saying, "It is my hope that this project contributes to the strengthening of the health system within Tanzania."
Research findings from the POETIC project were presented by Principal Investigator, Dr. Tim Baker, Ifakara researcher, Elibariki Mkumbo, and MUHAS researcher, Dr. Karima Khalid.
Dr. Baker, in his introductory presentation, briefly gave a perspective on critical illness, Essential Emergency and Critical Care (EECC) and POETIC.
He pointed out the large burden of critical illness the world faces saying, "There is a large burden of critical illness globally with a total estimate of 45 million adult critical illness cases annually. From these cases, there is a prevalence of 12-18% cases in hospitals and 15-30% mortality."
"Despite the large burden of critical illness, scaling up of EECC is essential and should be aggregated at national levels if we want to improve our health systems," Dr. Baker added.
Further results from the POETIC project showed that, in Tanzania, at a hospital level, 85% of EECC resources are available. However, when it comes to wards, only 52% of EECC resources are ready for use. These results from the study provide a sense that while resources are adequate, they do not capture the system strength of EECC.
"Increased staffing, training, infrastructure and procurement of equipment are necessary but not sufficient as an overall solution" the POETIC project team pointed out.
The POETIC project has included health facility assessment, policy analyses, economic evaluation and implementation research in Tanzania, Kenya and globally.
Further research is being planned into the effective coverage of EECC to save the lives of critically ill patients. In addition, work is ongoing with policymakers, partners and clinicians on the positioning of EECC as the foundation of health system strengthening that can prioritize and provide quality care for critically ill patients.
Earlier this year, in March, the POETIC research team met to discuss the project and the underlined concept of Essential Emergency and Critical Care (EECC) including POETIC background, set-up, management and progress of the project.
About POETIC
The Provision of Essential Treatment in Critical Illness (POETIC) project is funded by Wellcome Trust and is a collaboration between the CGD, LSHTM, KEMRI and Uppsala University. One of the key objectives of this project is to identify the most efficient pathway for providing critical care in low medium-income countries (LMICs) particularly in Kenya and Tanzania using the Essential Emergency and Critical Care (EECC) concept.
EECC is an innovative concept for patient-centred health systems to reduce preventable deaths. The project began in September 2020 and is expected to be completed within 12 months.