ENGAGEMENT: Sustainable Cities project disseminates research findings to Dodoma, Dar stakeholders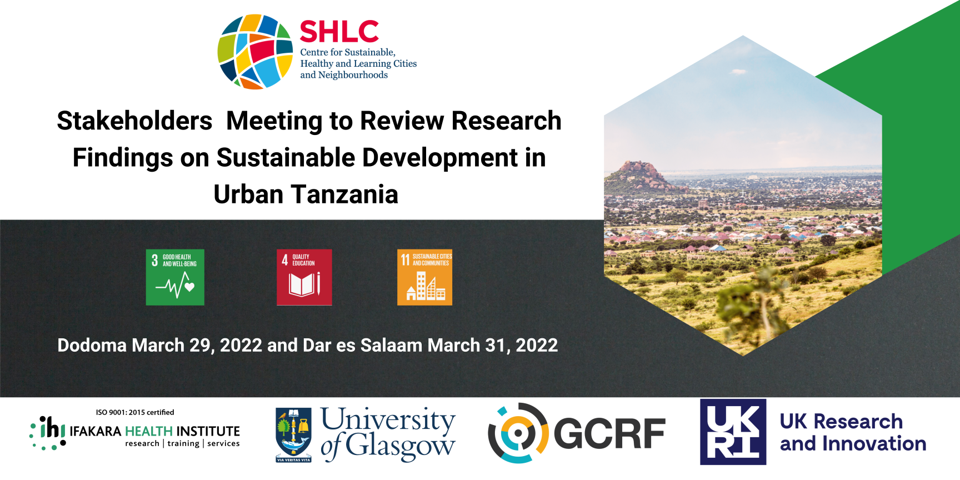 Ifakara's Sustainable, Healthy and Learning Cities and Neighborhoods (SHLC) project hosted stakeholder engagement meetings on March 29, 2022 in Dodoma and on March 31, 2022 in Dar es Salaam to disseminate findings of its four-year study which sought to assess urban growth and how it impacted health and education.
About 100 city stakeholders representing sectors under the study focus, ranging from health, education, land use, and urban planning, were invited to the meetings during which Ifakara researchers who undertook the study - Dr. Francis Levira, Dr. Irene Moshi, and Ibrahim Msuya - shared findings of their research.
While in Dodoma the City mayor, Dr. Davis Mwamfupe was the key figure who graced the official opening, in Dar es Salaam Ubungo Member of Parliament and former cabinet minister, Prof. Kitila Mkumbo was chief guest. Attendees included ward and street executive officers, councilors, civil society organization representatives, government ministry representatives and the media.
A total of 30 urban neighborhoods - 15 each for Dodoma and Dar es Salaam - were selected for the study – with the vast majority of attendees coming from these. In Dodoma, they included: Chadulu 'B', Chang'ombe Juu, Chilewa, Hombolo Bwawani, Ilazo, Image 1 and Ipagala. Others are: Kikuyu, Kilimani, Maili Mbili, Mlimwa, Mlimwa West, Ndachi, Nzuguni, and Surungai.
And for Dar es Salaam, the selected neighborhoods were Mbezi Beach 'B', Regent Estate, Masaki, Kinyerezi, Kimara Baruti, Goba, Makuti 'A', Ununio, Mwenge, Ulongoni, Mji Mpya, Kisiwani, Barafu, Mwembeni, na Kichangani.
In their presentations, the researchers said their audit focused on what influenced the formation of the city and rapid urbanization, including policy perspectives in land use and service provision and challenges which led to the current appearance of the city.
The audit also attempted to get an in-depth understanding of types of neighborhoods; how they were formed; how sustainable are to provide a healthy living and learning environment to its dwellers; and what are the challenges of urbanization and how the city and its neighborhoods are prepared to address them.
The researchers say the primary beneficiaries of the project are the community, urban authorities and policy makers study and other cities. Communities will have access to updated maps of existing boundaries, and demographic profile of their neighborhoods which will inform them in planning and service provision.
For urban authorities, they will have access to the current information of the city, trends in urbanization, land use and challenges associated with urbanization which will help them to engage with different stakeholders, identify priorities areas and strategize on how to minimize them at local level.
And for policy makers, the project and its findings will provide insights into what really exists in rapid-urbanizing spaces in the country; what other areas that need more research to be able to inform review of existing policies and strategies to facilitate creation of sustainable urban spaces that can be healthier and can also provide learning opportunities.
The SHLC is a global initiative implemented by an international consortium of nine research partners aiming to strengthen capacity to address urban, health and education challenges in neighborhoods across fast-growing cities in Africa and Asia.
Partners in this initiative includes Ifakara Health Institute, University of Glasgow, Human Sciences Research Council, Khulna University, Nankai University, National Institute of Urban Affairs, University of Rwanda, University of the Philippines Diliman, University of the Witwatersrand.
SHLC initiative is funded via UK Research and Innovation as part of the UK Government's Global Challenges Research Fund.
View photos from these events here.