MALARIA: Scientists call for measures to prevent imported infections in Zanzibar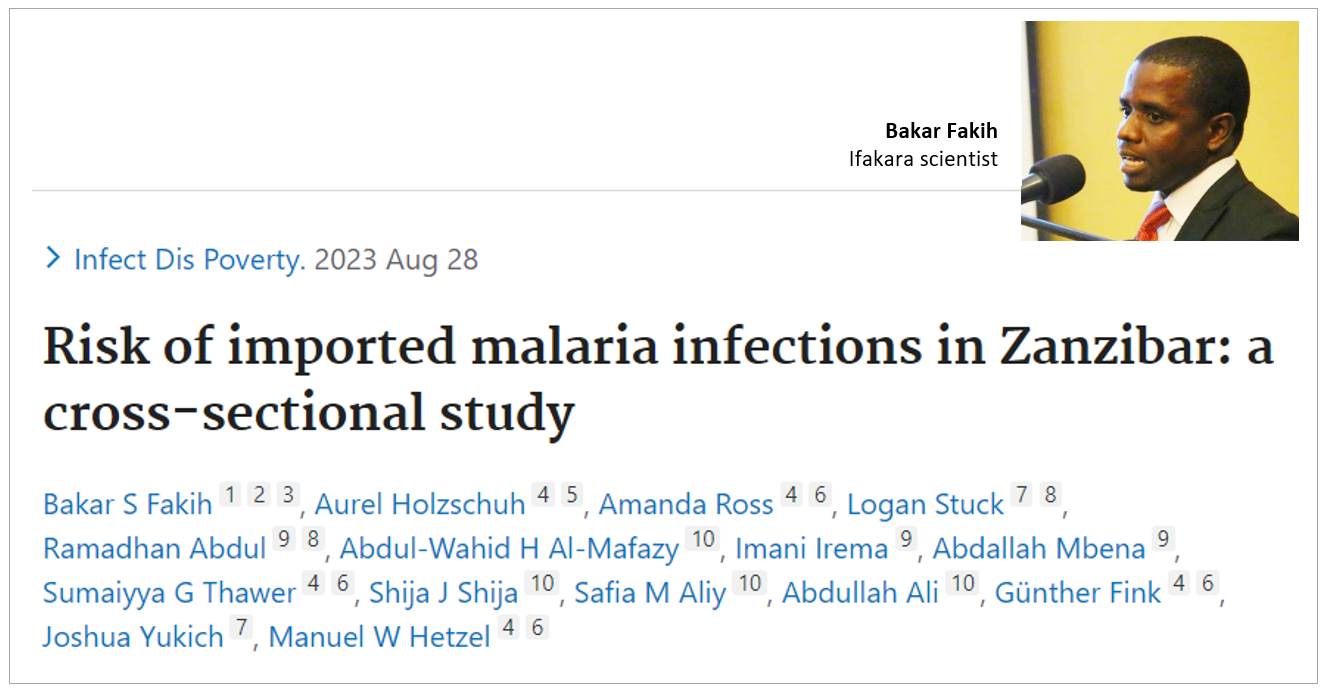 Developing effective measures to address imported malaria infections in Zanzibar is essential for the successful eradication of the disease in the region, finds a new study led by scientists from Ifakara Health Institute and Swiss TPH in collaboration with other partner institutions.
The study, published in the Infectious Diseases of Poverty journal on August 28, found that people's movement between malaria-endemic and receptive areas, such as Zanzibar, may result in the importation of malaria parasites and prolong local transmission, thereby undermining elimination efforts.
Zanzibar's malaria control significant progress
Over the last two decades, Zanzibar has made substantial progress in malaria control as a result of large-scale rollout vector control, improved diagnosis, and highly effective artemisinin-based combination therapy. The malaria control efforts aiming at elimination started in 2002 spearheaded by the Zanzibar Ministry of Health.
"Zanzibar has achieved these reductions by scaling up the use of long-lasting insecticidal nets, indoor residual spraying, effective diagnosis using rapid diagnostic tests (RDTs) and treatment with ACT. As a result of these efforts, supported by substantial funding for malaria elimination, the prevalence of malaria declined to around 1% over the past decade."
The scientists have issued a warning, however, after conducting a study between May 2017 and October 2018, which sought to identify the risk of malaria infection due to travel patterns between mainland Tanzania and Zanzibar. The caution came after they discovered specific travel patterns that increased the risk of malaria infection in Zanzibar.
Effective strategies for imported malaria
"In order to develop effective strategies to address the importation of malaria infections to Zanzibar, there is a need to understand relevant human behaviour, particularly travel patterns, and how these relate to the importation of parasites," wrote in their paper.
Previous studies of a similar nature have also confirmed the difficulties posed by parasite importation, which hinders efforts to eradicate malaria in nations such as Sri Lanka and China. According to the researchers of these studies, addressing importation should be "one of the priorities" in malaria elimination programs.
Thousands of households involved in study
For this particular study, the scientists interviewed 3,473 households in five selected districts of Unguja and Pemba – the two major islands of Zanzibar, United Republic of Tanzania. Data collected from 17,891 individuals who reported to have travelled within the previous 60 days was then analyzed.
The results showed that travelers who visited highly endemic districts contributed the majority (77%) of all infections detected among travelers to mainland Tanzania.
"The strong association between malaria endemicity in the travel destinations and infection among travelers observed in our analysis provides a clear rationale for prioritizing those who travel to highly endemic areas with more strict measures to prevent malaria importation in Zanzibar."
Using data to stop malaria importation
The scientists called for the development of tailored strategies to stop the importation of malaria parasites into Zanzibar by using data that may be collected regularly. Additionally, in order to develop successful intervention measures against the importation of parasites, they also emphasized the significance of gathering data on the origin of imported malaria infections as well as preventing the invasion of more aggressive urban malaria vector species, that could also be carried to Zanzibar via different modes of human or cargo transport.
Similarly, further in-depth research into the factors that influence local transmission may aid in identifying high-risk groups that are vulnerable to catching diseases locally in Zanzibar, noted the scientists.
In concluding their study, the scientists said, "Based on our findings, interventions addressing malaria importation could preferentially target individuals who travel to and from high endemicity areas in mainland Tanzania.
"Regular analyses of surveillance data indicating the origin of infections classified as 'imported' and further qualitative research may be needed to identify socio-demographic characteristics of these 'high-risk' groups and to develop and implement effective targeted interventions."
Ifakara Health Institute scientists involved in the study are Bakar Fakih, the lead author, Ramadhan Abdul, Imani Irema and Abdallah Mbena.
Other contributors from partner institutions include Manuel W Hetzel (lead author), Aurel Holzschuh, Amanda Ross, Sumaiyya Thawer and Günther Fink from Swiss TPH; Logan Stuck and Joshua Yukich from Tulane University School of Public Health and Tropical Medicine, USA; Abdul-Wahid Al-Mafazy, Shija Shija, Safia Aliy and Abdullah Ali from Zanzibar Malaria Elimination Programme (ZAMEP).
>> Full publication: https://pubmed.ncbi.nlm.nih.gov/37641152/