COVID-19: Concern over growing hesitancy, skepticism to vaccinate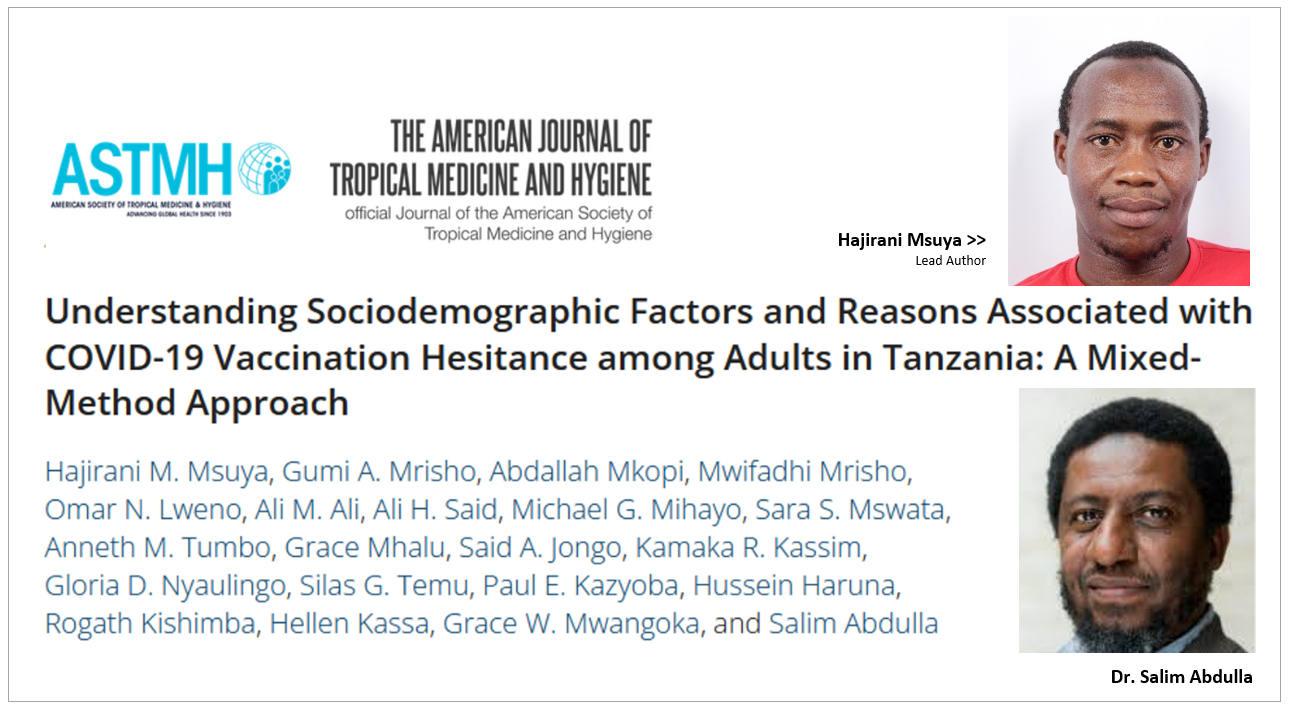 After strides in rolling out the COVID-19 vaccine in Tanzania, scientists are now worried whether this success will be sustained after a new study found growing hesitancy and skepticism to vaccinate for the virus.
In their new study findings published on the American Journal of Tropical Medicine and Hygiene on September 11, 2023, the scientists from Ifakara Health Institute and partners cite fear of safety and lack of trust of COVID-19 vaccines among reasons for the recorded vaccine hesitancy in the east African country.
"The study identified fear of safety and short-term side effects, and lack of trust of the COVID-19 vaccine; belief in spiritual or religious views; and belief in local remedies and other precautions or preventive measures as the major contributors to COVID-19 vaccine hesitancy in Tanzania," the scientists report.
While Ifakara Research Scientist Hajirani Msuya is lead author of the publication, seasoned clinical epidemiologist, Dr. Salim Abdulla, supervised the project and authorship of the publication titled, "Understanding Sociodemographic Factors and Reasons Associated with COVID-19 Vaccination Hesitance among Adults in Tanzania: A Mixed-Method Approach."
Why study hesitancy?
Although studies on COVID-19 vaccine hesitancy are being undertaken widely worldwide, there is limited evidence in Tanzania, that's why the scientists assessed the social and demographic factors associated with COVID-19 vaccine hesitancy and the reasons given by unvaccinated study participants.
"We conducted a mixed-method cross-sectional study with two components—health facilities and communities—between March and September 2022. A structured questionnaire and in-depth interviews were used to collect quantitative and qualitative data, respectively," they report, adding:
"A total of 1,508 individuals agreed to participate in the survey and explained why they had not vaccinated against COVID-19."
38% skeptical
Results show, despite 62% of study participants indicating they would accept the vaccine, a good proportion – that's 38% - expressed skepticism. "In a multivariate regression analysis, adult study participants 40 years and older were significantly more likely to report not intending to be vaccinated than youth and middle-aged study participants between 18 and 40 years.
The study also found that female participants were more skeptical than their male counterparts. "Female study participants had a greater likelihood of not intending to be vaccinated than male study participants," the scientists report.
What next after this?
The scientists recommend further empirical studies to confirm these findings and to understand more fully the reasons for vaccine hesitancy in different demographic groups.
Scientists behind the study
Scientists who worked along with Hajirani in the project and the publication – from Ifakara – are: Gumi Mrisho, Dr. Abdallah Mkopi, Dr. Mwifadhi Mrisho, Dr. Omar Lweno, Dr. Ali Ali, Ali H. Said, Dr. Michael Mihayo, Sarah Mswata, Anneth Tumbo, Grace Mhalu, Dr. Said Jongo, Kamaka Kassim, Gloria Nyaulingo, Silas Temu and Grace Mwangoka.
Contributors from partner institutions are: Paul Kazyoba from the National Institute for Medical Research (NIMR); Hussein Haruna and Rogath Kishimba from the Ministry of Health, Tanzania; and Hellen Kassa from the Foundation for Innovation and New Diagnostics, Geneva, Switzerland.
>> Full publication, here:
About COVID-19
Globally, more than 6.8 million people died as a result of COVID-19, with more than 755 million confirmed cases as of February 2023. From the cases reported worldwide, the African region had more 9.0 million COVID-19 cases and 175,270 fatalities, with 42,717 cases and 846 fatalities reported in Tanzania.
The common symptoms of infection include fatigue, muscle pain, sneezing, a sore throat, and death. Cleaning your area, avoiding sneezing and coughing in public places, handwashing with soap and sanitizer, and covering your mouth and nose with a mask while sneezing and coughing are all regular recommendations to reduce COVID-19 infection.
Why vaccinate?
Despite these recommended prevention measures, vaccinations have been recognized as the most effective approach in controlling the spread and severity of COVID-19, and have been used as a public health intervention to halt the transmission and evolution of infectious diseases over time.
The vaccination strategy is implemented by 1) vaccinating directly those who are most vulnerable to severe outcomes; and 2) protecting them indirectly by vaccinating those who are prone to transmitting the disease, thereby making the current COVID-19 vaccines a viable option for reducing morbidity and mortality.
However, COVID-19 vaccination rates have been found to be low in the Middle East, Russia, Africa, and several European countries,10–12 and have been attributed to vaccine hesitancy.
Hesitancy defined
Vaccine hesitancy is defined as a delay in accepting vaccinations, or being reluctant or outright refusing to vaccinate, despite the availability of vaccination services. Vaccine hesitancy was identified as one of the top 10 threats to global health by the WHO in 2019.
A complex decision-making process that includes communication and media; historical influences; religion, culture, gender, socioeconomic, political, and geographic barriers; vaccination experience; risk perception; and vaccination program design ultimately leads to vaccine hesitancy.
The frequently cited reasons for vaccine hesitancy are perceived risks versus benefits, religious beliefs, and a lack of knowledge and awareness of the COVID-19 vaccine.
Global vaccination goals
To reduce transmission and achieve herd immunity, it is estimated that at least 60% to 70% of the population should be vaccinated. To achieve this end point, the WHO outlined actions the global community must take to vaccinate 40% of the global population against COVID-19 by the end of 2021, and 70% by June 2022.
More than 11.3 billion doses of the COVID-19 vaccine have been given worldwide in support of the WHO's call for universal vaccination by June 2022, but only 11% of people in low-income countries have received the vaccine, compared with 73% of people in high-income countries. 20 The African region received 833.5 million doses and only 18% of the population is fully vaccinate.
In July 2021, the United States sent Tanzania a shipment of 1,058,450 doses of the Johnson & Johnson COVID-19 vaccine, followed by 1,065,600 doses of Sinopharm vaccines from the Chinese government in October 2021.