TB DAY 2022: Ifakara invests in research to end tuberculosis, save lives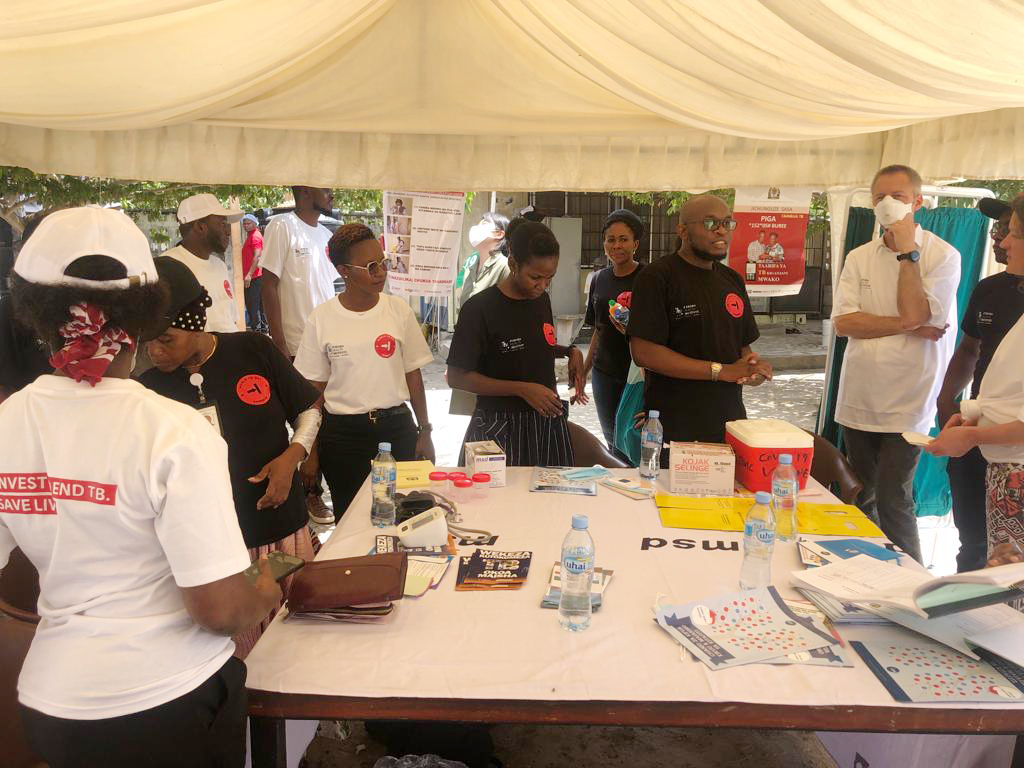 Today, on March 24, Ifakara Health Institute marks the World TB Day in style with free consultation and testing on the disease at Mwananyamala Regional Referral Hospital where Ifakara runs a TB clinic for care and research services.
The TB Day is an annual event that commemorates the date in 1882 when Dr. Robert Koch announced his discovery of Mycobacterium tuberculosis, the bacillus that causes tuberculosis (TB). To observe the day, Ifakara in collaboration with Mwananyamala hospital host at special event inside the the hospital site in Kinondoni, Dar es Salaam, to raise public awareness and educate people about the impact of TB.
The theme of World TB Day 2022 – 'Invest to End TB. Save Lives.' – conveys the urgent need to invest resources to ramp up the fight against TB and achieve the commitments to end TB made by global leaders.
Press Release - World TB Day 2022: Investing in research to end TB, save lives
Commenting on the theme, Dr. Yahya Simba from the Ifakara's Interventions and Clinical Trials department who is attached to the TB clinic at Mwananyamala hospital, highlighted some of the work his group had done that contribute to the fight against TB in Tanzania.
"We currently have three ongoing TB projects here at Mwanyamala hospital which are under Ifakara. These projects focus on TB vaccines whereby we conduct research activities and clinical trials here at the hospital and at our Bagamoyo clinic to assess which vaccine has protective effects against TB among patients and in particular TB in children," he said.
Ahead of today's event, Dr. Omary Ngome also from Ifakara pointed out about an ongoing project the institute is conducting in partnership Tanzania Health Promotion Support (THPS) and other NGOs called Uhuru-TB&FP LON ("Freedom-Tuberculosis & Family Planning (FP)") which is funded by the USAID.
"Launched in 2020, this is a five-year activity that aims to improve access to and use of quality TB and FP service delivery in public and private sector health facilities in four regions of Tanzania," Dr. Ngome said.
One of the Ifakara funding partners from Panacea Germany, Dr. Nobert shared a few remarks at the event.
"I am happy to be here to mark the TB Day. I am convinced that we need better TB diagnostics and drugs to end TB, that is why I am researching together with this quality team," he said.
During the event, Mwananyamala hospital provided free health consultations, counselling and tests for TB and other diseases like hypertetitis and diabetes. They also gave COVID-19 vaccination.
Speaking on behalf of Mwananyamala hospital, Dr. Saudan Hassan, the TB coordinator at the hospital said, "I encourage the public to get tested for TB early, once they start showing symptoms and to start treatment immediately. Taking action in early stages of the disease is very crucial if we really want to end TB within our communities."
The event brought together scientists from Ifakara's TB research group, staff from the TB unit at Mwananyamala hospital, some Ifakara funding partners, social welfare workers, and the community in general.
About TB
TB remains one of the world's deadliest infectious killers. Each day, over 4,100 people lose their lives to TB and close to 30,000 people fall ill with this preventable and curable disease. For the first time in over a decade, TB deaths increased in 2020 with an estimated 10 million people falling ill with TB worldwide.
Currently, TB is the 13th leading cause of death and, the 2nd leading infectious killer after COIVD-19.
Based on these numbers, there is a need to accelerate investment and action in the development of new tools, especially new TB vaccines. Ending TB requires collective actions by all sectors. On World TB Day, WHO calls on everyone - individuals, communities, societies, donors and governments to do their part to end TB.