MALARIA CONTROL: Call for more studies to prevent outdoor mosquito bites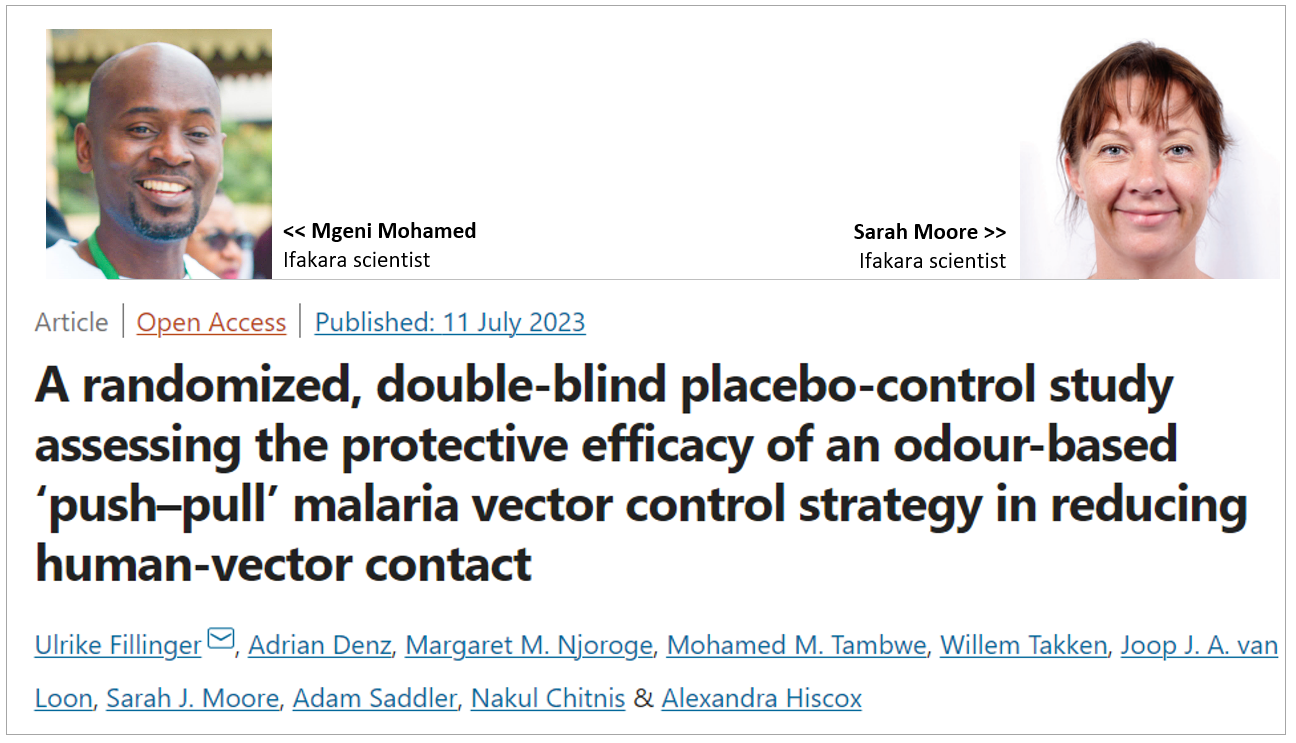 After a recent study assessing novel outdoor mosquito control measures found "none of the interventions provided any protection from outdoor biting malaria vectors", now malaria researchers say the search for efficient outdoor protection should continue unabated.
Scientists from Ifakara Health Institute and partners recommend in their recent publication on Nature, "In the light of the high anopheles arabiensis biting densities outdoors in the study location, the search for efficient outdoor protection and effective pull components needs to continue.
"There remains an urgent need to further develop and evaluate odour-baited attract-and-kill approaches that can be effectively combined with spatial repellents for a push–pull intervention for malaria control," further recommend the scientists.
"Push-and-pull" interventions assessed
Novel malaria vector control strategies targeting the odour-orientation of mosquitoes during host-seeking, such as 'attract-and-kill' or 'push-and-pull', have been suggested as complementary tools to indoor residual spraying and long-lasting insecticidal nets. These would be particularly beneficial if they can target vectors in the peri-domestic space where people are unprotected by traditional interventions.
The scientists conducted a study in western Kenya in 2018 to assess the "push-and-pull" interventions proposed. For the 'push' intervention (spatial repellent), they used transfluthrin-treated fabric strips positioned at open eave gaps of houses while for the 'pull' intervention, they placed an odour-baited mosquito trap at a 5 m distance from a house.
In addition, they also used the combined 'push–pull' package and the control where houses contained all elements but without active ingredients. Outdoor biting was estimated using human landing catches, and indoor mosquito densities using light traps.
After implementing the study for 17 weeks during the rainy season between September and December, the scientists reported that none of the three tested interventions, 'push', 'pull' and the combined 'push–pull' system, reduced outdoor biting by either of the two abundant malaria vectors, An. arabiensis and An. funestus. On the contrary, the presence of a spatial repellent was associated with an increase of mosquitos biting outdoor.
The need for effective outdoor tools
Although the study's findings show that none of the interventions offered any protection against outdoor biting malaria vectors, the researchers have stressed the need for more research into effective outdoor mosquito prevention.
"The need for finding highly efficient methods for protecting people from malaria vector bites outdoors remains important, as illustrated in our study, where a human landing volunteer received on average 23 bites… per night during the 17 weeks of the survey during the rainy season," the scientists report.
Who is behind this study?
Ifakara Health Institute scientists, Mohamed Tambwe and Sarah Moore contributed to the study along with colleagues from partner institutions in Kenya, Switzerland and The Netherlands. They include Ulrike Fillinger and Margaret Njoroge from the International Centre of Insect Physiology and Ecology (Icipe); Adrian Denz, Adam Saddler and Nakul Chitnis from the Swiss Tropical and Public Health Institute; and Willem Takken, Joop J. A. van Loon and Alexandra Hiscox from the Wageningen University.
>> Full publication: https://www.nature.com/articles/s41598-023-38463-5#Sec8